BOOKNIC parent feedback
BOOKNIC parent feedback
7 July 2022 (by SJ Denney (s.denney))
THANK YOU to everyone who has been able to attend our reading events this week.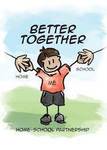 We have loved reading with you all throughout the week and creating fun and memorable events for our children.
Please take 2 minutes to complete the Google form (see link below) to give us your valuable feedback.
Thank you - as always - for your support.
Learning, loving and growing; together as God's children.