iSing Pop are filming at St. Stephen's NEXT WEEK!
iSing Pop are filming at St. Stephen's NEXT WEEK!
1 July 2022 (by SJ Denney (s.denney))
I am absolutely delighted to share the news that iSing Pop have chosen our school and our St. Stephen's children to film the prayer sections for their upcoming classroom worship episodes.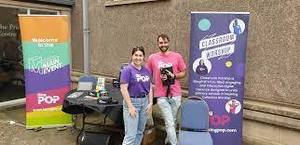 The episodes will be aired throughout the autumn term to every school who uses the iSing Pop collective worship video resources.
As you can imagine, we are highly honoured and excited about this, but now we have the very difficult task of choosing 14-18 children who will record the prayers and become iSing PopSTARS.
Therefore, we are inviting KS2 children to come to an open 'audition' on Monday lunchtime in the Year 3 classroom with Mrs Denney and Mrs Gunn. You can read your own prayer or a school prayer - it's up to you.
The filming will take place on Wednesday 6th July.
The children have been told the exciting news in today's assembly, but we wanted to also share the news with our families.
Thank you - as always - for your support,
Mrs Denney
Learning, loving and growing; together as God's children.