Wednesday 9th October 2019
It was wet and windy at Forest School today. We sheltered under a huge tarp and protected ourselves from the weather. We spent some time threading pipe cleaners around the pine cones to make pine cone spiders. On the way back to nursery we splashed through puddles and found a wobbly bit of grass!
Wednesday 2nd October 2019
Today, Nursery spent some time setting up the continuous areas of provision in the Forest School. We carried the mud for the Mud Kitchen and took the box of books for the Reading Den on a large trolley. It was difficult pulling it through the long, wet grass! We also carried buckets of water for the Nature Potions. Our focused activity for today was making 'leaf creatures'. The children spent some time collecting items and used them to make creatures. We added our own google eyes and made up names for the creatures. The children always enjoy using the magnifying glasses to look for minibeasts. We found a very hairy caterpillar and a spider joined us whilst we were making our leaf creatures!
Wednesday 25th September 2019
Nursery have had a really busy afternoon today. First of all they took some time to walk around the nursery garden and then headed up to Forest School to look for autumn treasures. The children observed the changing colours of the trees. They also found hundreds of brightly coloured berries on the trees.
Then the children worked together, as a team, to start to build a 'Mini beast Mansion'. Each child added something to the Minibeast hideaway and enjoyed seeing the 'Mansion' take shape.
The 'Minibeast Mansion' is already a great hit and we have welcomed our first visitors. Can you spot them in the photographs below? It looks like it is going to be a popular spot!
Wednesday 11th September 2019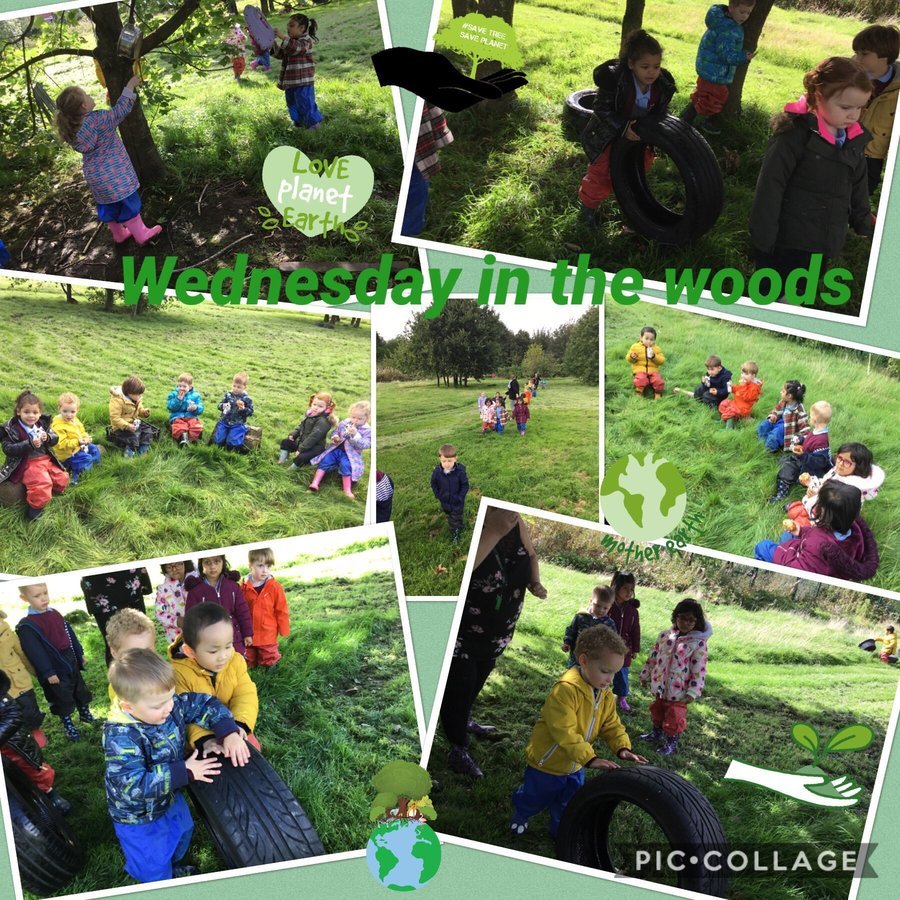 It was Nursery's first visit to Forest School today. They played games, ran in the trees, rolled tyres, made music, read a story and had a picnic! They also spotted a frog and a tiny newt. I wonder if they will have any visitors next week?