Tuesday 21st January 2020
During Year 3/4's forest school time this week we used fieldwork to observe and record the human and physical features in the local area using a sketch maps and plans.
Year 1 have been building homes for our new visitors. The children worked in pairs to find natural resources and build the perfect home. They were very proud of their finished pieces and worked so well as a team.
As always, (VERY) Muddy Monday finished with the 'Welly Wash'.
This week was our first Forest School session in Year 1. We were looking at different types of trees. We were able to identify some evergreen and deciduous trees in our outdoor environment. Then we had some time to explore, it was very windy and VERY muddy.
Spring Term ~ This term Nursery have lots of exciting Forest School sessions planned. We are going to be making a hedgehog house, taking part in the Big Bird Watch organised by the RSPB and we will be starting our unit of work "Wild about Stories". This is where we will experience story telling in the beautiful, natural surroundings of our Forest School. We will be exploring the characters, setting and the plot of several stories and will carry out some Forest School related activities. We will also be cooking some campfire treats on the fire. Watch this space!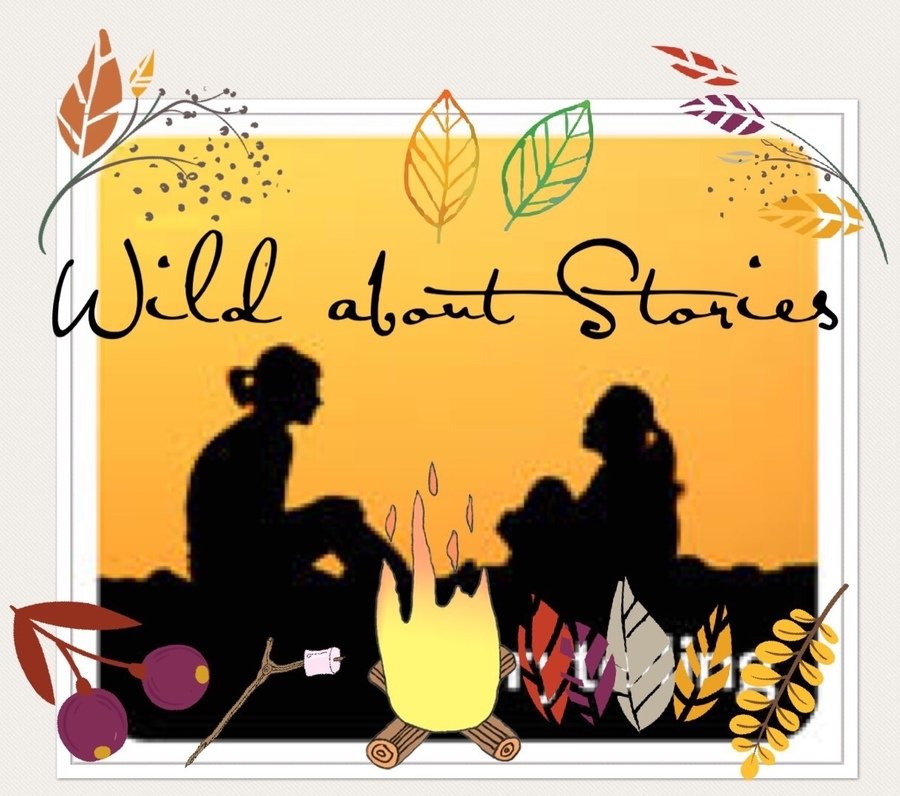 Tuesday 14th January 2020
Today Year 3/4 learnt that we have a responsibility to protect some habitats including our Forest school. So we did a litter pick to help remove anything that could damage the habitat.
Monday 13th January 2020
Tree Boggarts ALERT!
We pulled our wellies on in Purple Class and headed down to forest school this morning for a very exciting lesson! The children were asked to work in pairs and mould balls of clay onto a tree trunk to form tree boggarts. The children were very creative and used lots of the natural resources in the forest school as features for their boggart's face.
Tuesday 7th January 2020
Today Year 3/4 visited our Forest School and we explored and used classification keys to help identify and name a variety of living things in our local environment.

Wednesday 4th December 2019
This week we have been busy making natural tree decorations. We sliced and dried out oranges; we painted pine cones and pushed pom poms into them. We made bird seed baubles in orange skins; we made cheerio shape hangers and bent them into lots of different shapes. During our Forest School session, we did some pine cone weaving and threaded more cheerio hangers. We then decorated the trees to make them look festive. We thought our trees looked very pretty and also useful for the birds to feed on during the cold weather.
Wednesday 27th November 2019
Last week it was World Nursery Rhyme Week. We enjoyed it so much that we decided to carry it on this week! Today, Mrs Clift went to Forest School and hid lots of baskets which contained Nursery Rhyme characters and cards. We kept our eyes peeled on the way in and saw lots of baskets. We sat in the campfire circle and then went off in pairs to find one. When we had found the basket, we took it back to our friends. Mrs Smith gave us some clues and we had to guess which character it was. We then sang along and joined in with the actions. We must have been good singers as we were joined by some birds who came to sit in the nearby Elder tree and listened to us!
Wednesday 20th November 2019
Lately, the weather has started to turn a little colder. We wanted to do something to help the birds who might start getting hungry now that the berries are disappearing and the worms are hiding underground in the warm soil! We used coconut oil and lard with sunflower seeds to make some pine cone bird feeders. We then hung them around the Forest School area.
Wednesday 13th November 2019
On our way to Forest School we collected lots of sticks. When we got there, we looked around to see if we could find shapes in the natural environment. We found circles, squares, rectangles and even some triangles. We then used the sticks to make shapes of our own.
Wednesday 6th November 2019
To celebrate Firework night we made our own stick sparklers. We hunted for sticks, attached some sparkly tinsel and had great fun making big circles and ups and downs with our 'sparklers'.
Wednesday 30th October 2019
Today we used a hand drill to make our pumpkins into squirrel feeders. We took the pumpkins to Forest school. We then had a race to see who could collect the most leaves. We filled two big bags up with leaves and then threw the bags in the air to create a leaf storm. We enjoyed kicking and throwing the leaves to create our own leaf storms.
Wednesday 16th October 2019
Today we followed a glitter trail left by the Autumn Fairy. We followed the trail and used our information sheets to work out the names of the trees. We had to look at the leaves, the buds, the flowers and the trunk to work out which type of tree it was. We took some of the leaves back to use on the light table.
Wednesday 9th October 2019
It was wet and windy at Forest School today. We sheltered under a huge tarp and protected ourselves from the weather. We spent some time threading pipe cleaners around the pine cones to make pine cone spiders. On the way back to nursery we splashed through puddles and found a wobbly bit of grass!
Wednesday 2nd October 2019
Today, Nursery spent some time setting up the continuous areas of provision in the Forest School. We carried the mud for the Mud Kitchen and took the box of books for the Reading Den on a large trolley. It was difficult pulling it through the long, wet grass! We also carried buckets of water for the Nature Potions. Our focused activity for today was making 'leaf creatures'. The children spent some time collecting items and used them to make creatures. We added our own google eyes and made up names for the creatures. The children always enjoy using the magnifying glasses to look for minibeasts. We found a very hairy caterpillar and a spider joined us whilst we were making our leaf creatures!
Wednesday 25th September 2019
Nursery have had a really busy afternoon today. First of all they took some time to walk around the nursery garden and then headed up to Forest School to look for autumn treasures. The children observed the changing colours of the trees. They also found hundreds of brightly coloured berries on the trees.
Then the children worked together, as a team, to start to build a 'Mini beast Mansion'. Each child added something to the Minibeast hideaway and enjoyed seeing the 'Mansion' take shape.
The 'Minibeast Mansion' is already a great hit and we have welcomed our first visitors. Can you spot them in the photographs below? It looks like it is going to be a popular spot!
Wednesday 11th September 2019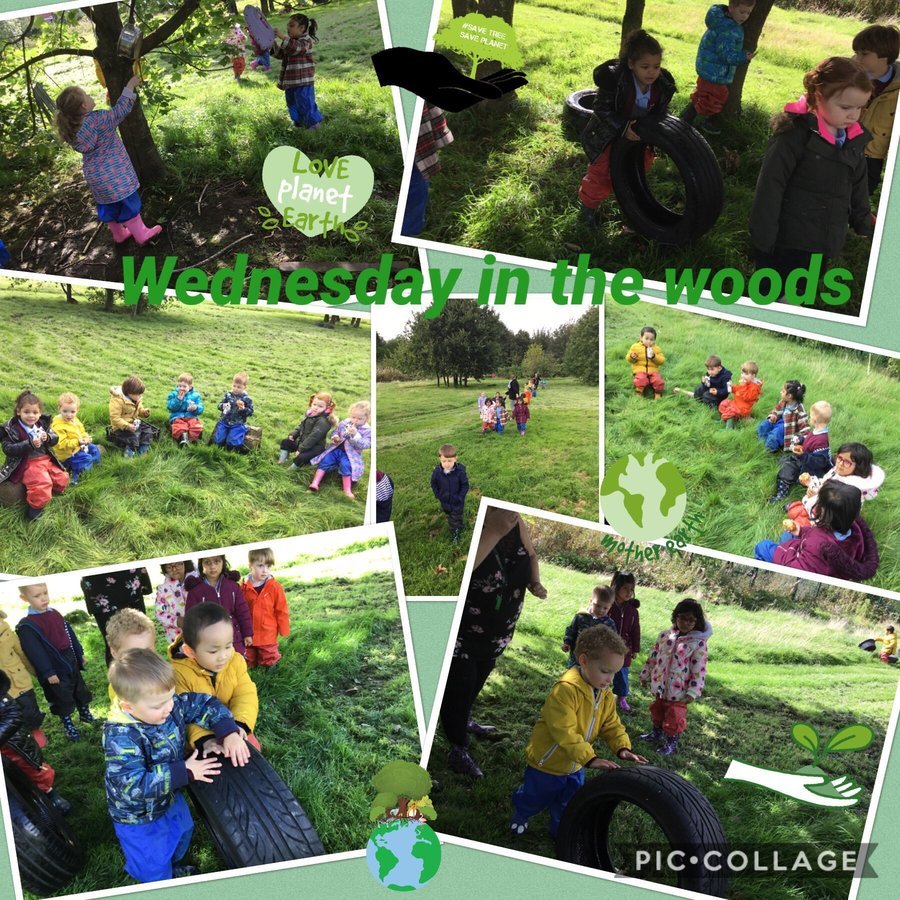 It was Nursery's first visit to Forest School today. They played games, ran in the trees, rolled tyres, made music, read a story and had a picnic! They also spotted a frog and a tiny newt. I wonder if they will have any visitors next week?