Welcome to Pre-school Nursery 2020 - 2021
Our wonderful Pre-school Nursery is run by a qualified teacher and experienced nursery staff. We have a fantastic setting with free flow indoor and outdoor provision and we work very closely with the main school to support transition across the school.
Teacher - Mrs L Smith
Supported by Mrs K Clift
For further information about home learning and our current topics please scroll down. For all up to date news follow us on...

Our next intake will be in January 2022.
Our Pre-school Nursery Application Form can be downloaded here.
For information about places, or to arrange a time to come and look around, please visit our admissions page or contact school on
0161 764 1132 or email the school at ststephens@bury.gov.uk
Please ensure you have downloaded and completed the forms below and returned them to the school office either via e-mail or post. Thank you.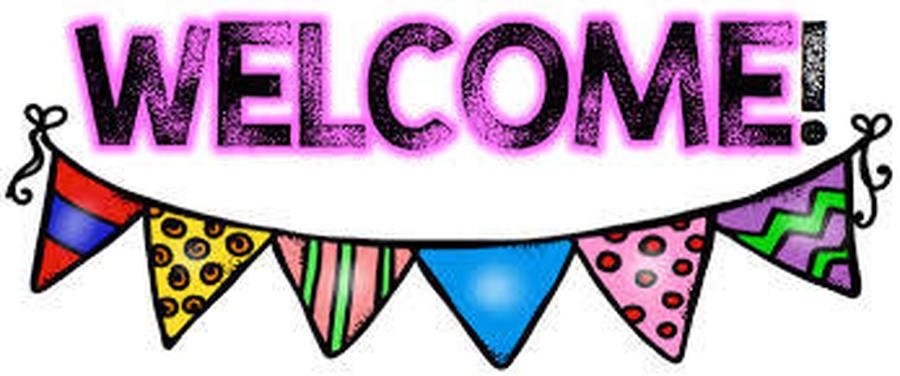 Autumn 2 - Week 4
This week we have been celebrating World Nursery Rhyme Week. Every day we have been learning a different nursery rhyme. We have used props to act them out and to sing along with. We have used puppets to put on performances. We went on a nursery rhyme Hunt to Forest School and we have even changed the words to some of the songs and made our own version. We have loved nursery rhyme week and are very proud to be World Nursery Rhyme Week Ambassadors!

Autumn 2 - Week 3
This week we have been learning about Diwali, the Festival of Light. We opened up our Chatterbox and explored the artefacts that were in there. We talked about Rangoli patterns and created our own using paint and chalk. We made diva lamps by moulding clay and shaping it, we then painted and decorated them. We also learned about Remembrance; we made large suncatcher poppies to display in the big playground, we made fingerprint poppy paintings and we drew and cut out our own poppies to wear. We also had the chance to look at some real medals which was very interesting. We finished the week by dressing up in spots and crazy socks for Children in Need.
Autumn 2 - Week 2
This week our Book of the week was 'Don't Hog the Hedge'. The children have been learning about hibernation and which animals settle down for a long sleep in winter. We have also had a busy week with more firework fun and we enjoyed using the firework glitter mark making and firework play dough. We also had great fun making our firework pictures.
Autumn 2 - Week 1
Our Book of the week is Pumpkin Soup. We have been using pumpkins in our mud kitchen, we scooped out the seeds, chopped, stirred and mixed the soup. We took our pumpkins to Forest School and hammered golf tees into them. This really helped the children develop their hand eye coordination as they had to figure out how to hold the tee with one hand and use the hammer with the other. The tees kept jumping out of the pumpkin so the children had to show resilience to persevere with the task. We also had lots of creative firework fun.
Autumn 1 - Week 8
This week we have had a 'Healthy Eating Week'. We started the week with our very own pumpkin patch which we had set up in the nursery garden. The children were able to choose their own pumpkin, put them in the wheelbarrows and pay for them at the till. We tasted porridge, like Goldilocks, and chose From different toppings such as bananas, raisins, jam and syrup. We also learned about Harvest and talked about all of the things we are thankful for. We made Harvest bread by mixing our own dough, rolling sausages and plaiting them together. They were delicious! To celebrate the end of our rainbow topic we ate food from every colour of the rainbow, this was a good way of tasting new food. We tasted tomatoes, peppers, oranges, melon, apple, blueberries and beetroot. We also played a great outdoor relay game where we had to take the unhealthy food off the dinner plate. We sang "we don't want this on our plate, we want food that makes us great!"
Autumn 1 - Week 7
This week we read The Monkey Puzzle. We talked about the babies of different animals and how some babies look like their adults but some creatures don't. We have been working on comparing and sorting objects according to different features and have completed some excellent maths investigations.
Autumn 1 - Week 6
This week we have been reading Elmer. We have talked about how we are all different and unique and that our friends love us for who we are. We have been continuing our work on sorting and comparing objects according to their colour and pattern. We had a huge job sorting out all of the wellies when someone threw them all over the carpet!
Autumn 1 - Week 5
This week we have been reading The Rainbow Fish. We talked about how to be a good friend and how sharing our things can make other people happy but can also make ourselves feel good as well. We had great fun making friendship handprints, painting our hands, shaking hands with a friend and making a new colour. It encouraged lots of talk about how it felt with paint on our hands and how it felt slippy when we shook hands. We have also spent some time In maths sorting things Into different groups. We looked at some fish and talked about how the fish were different, spotty, stripy, pointy nose, long thin tail etc and made lots of different groups. The children then carried this on in the areas of continuous provision. We ended the week with a little gardening in our allotment. We are trying to get rid of the weeds (again) so that we can grow lots of nice plants. Watch this space!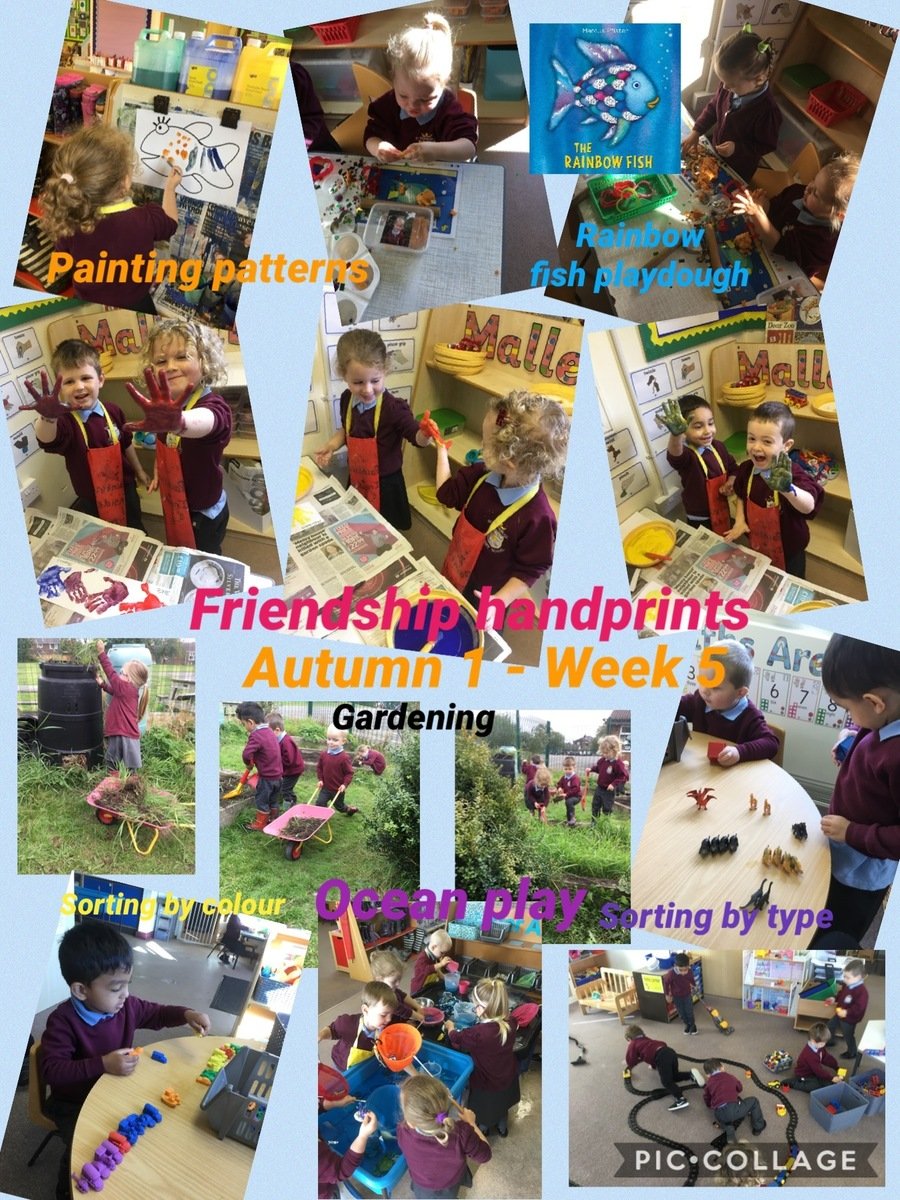 Autumn 1 - Week 4
This week our Book of the Week was The Invisible String. This is a beautiful book which explores the idea that everyone is connected by an invisible string. It doesn't matter how far away your loved one is, you are always connected. We made love heart kites and added different lengths of string on. We have been using lots of comparative language such as long, longer, longest. We put three love hearts in size order, made a love heart chain and drew the people who we love on them. We particularly enjoyed making love heart biscuits. They filled our classroom with the most delicious smell on Friday!
Autumn 1 - Week 3
This week our learning was based around The Worrysaurus. This is a lovely book which explores the feeling of being worried about what is going to happen. The children talked about things that they got worried about and we talked about what we could do to let the worry butterflies out. We enjoyed making apple and blackberry pies with the apples from our tree. We also found out about a famous artist called Picasso. We looked at paintings from his blue period and pictures from his rose period and compared them.
Autumn 1 - Week 2
This week our Book of the Week was The Colour Monster. The children enjoyed learning about how colours can reflect feelings and talked a lot about the different emotions in the story. We have sorted coloured objects; fed shape monsters; painted colour monsters; made blow paint monsters; wrapped coloured yarn and elastic bands around our own colour monster; used mirrors to look at our faces and expressed the different emotions in the story. We also enjoyed our first visit to Forest School, we looked for colours in nature; found lots of bugs and then spent some time being 'green' (calm and quiet) And listened to the sounds we could hear. We heard birds, leaves rustling in the wind, children's voices, cars and then we were lucky enough to hear a helicopter! When it flew over we could see that it was a chinook. The children were amazed at how big it was! We enjoyed making Emotion Potions and exploring what happened when we mixed bicarbonate of soda with vinegar. The children used lots of language when they described what had happened such as "its like a volcano, it's fizzing, look at that big bubble, it's overflowing, it's made a new colour!" This led to lots of independent potion making in the water area.


Have a go at playing the Shape Monster game by clicking HERE
Converting
Autumn 1 - Week 1
Welcome to our new school term. We are looking forward to welcoming everyone into our Pre-school this week. For the first few weeks of the term we have carefully selected these three books and planned lots of fun, exciting work around the stories. We have based our planning around emotional literacy to allow our children time to reconnect with us, each other and the general day to day school routine. These books will allow the children to explore their emotions and feelings, will develop their emotional vocabulary and will give them the tools to understand and describe how they are feeling. Watch this space for more information; follow us on Twitter and please ensure you access your Tapestry account for lots more information.