Nursery
2019-20
Teacher - Mrs L Smith
Supported by Mrs K Clift and Mrs T Brough-Aikin
For up to date news, follow us on...



Convertinonverting
Welcome to Nursery 2019 - 2020
Our next intake will be in January 2020. For information about nursery places, or to arrange a time to come and look around, please visit our admissions page or contact school on
0161 764 1132 or email the school at ststephens@bury.gov.uk
In the Autumn Term we will be hosting our first drop in session of the year for prospective families to visit our Nursery. Please look out for the date and time.
Our topic this term is 'Why do you love me so much?' This topic is based around love, families and how people are the same and different.

Convertin
W/E ~ Friday 11th October 2019
Nursery have been continuing our Christian Value theme of 'Love'. This week, our Book of the Week was 'Guess how much I love you in the Autumn'. This helped us to learn about the season of autumn and what things we might find. We have a new 'Autumn Lookout' so that the children can use binoculars and telescopes to look out of the window. We often get birds, squirrels and a local cat visiting our pathway so hopefully the children will spot some interesting things. We have also been busy with our 'Squiggle while you Wiggle' work and the children enjoyed their mark making session on Friday.
Forest School ~ Wednesday 9th October
Forest School was wet and windy today. We made pinecone spiders under the shelter. The wind kept blowing up the tarp and the rain was noisy! On our way back to nursery, we splashed in muddy puddles. We also found a wobbly bit of grass that we enjoyed balancing on. The grass was moving beneath our feet!
W/E ~ Friday 4th October
This week we have had lots of maths activities inside. The children set themselves a challenge to see who could make the longest chain. They were very patient when they were attaching the links together. The children have also been looking at numerals and different ways to represent numbers. Outside the Mud Kitchen turned into a Soup Kitchen with the addition of some extra ingredients!
Forest School ~ Wednesday 2nd October
Today we used the continuous provision areas in Forest School. We took mud, water and some books for the Reading den. We enjoyed working in the Mud Kitchen and the Nature Potions. We also used the magnifying glasses to look for creatures. Our focused activity was making a leaf creature. The children collected items to make their creature and then they added google eyes to it. We talked a lot about the shape, size and texture of leaves and the children are getting good at recognising the seeds which they find in the Forest.
W/E ~ Friday 27th September 2019
Today it rained ALL day! ☔️ In the afternoon we set up a physical challenge session for the children based on 'The Cube'. The children completed a series of tasks using their hand/eye coordination, balancing skills, speed and agility. It was lovely to hear all of the children cheering and clapping for each other when they had completed their tasks!
Forest School ~ Wednesday 25th September 2019
We had a really busy afternoon today. First of all we took some time to walk around the nursery garden and the school field to look for autumn treasures. We also observed the changing colours of the trees. We also found hundreds of brightly coloured berries on the trees.
We then worked hard together, as a team, to start to build our 'Minibeast Mansion'. Each child has added something to the Minibeast hideaway and enjoyed seeing the 'Mansion' take shape. Whilst we were there we found some minibeasts who had already started to settle there. We found a newt, lots of snails, spiders and a ladybird. It looks like it is going to be a popular spot!
W/E ~ Friday 20th September 2019
We enjoyed badminton with Adam, developing our hand/eye coordination using the rackets and pom poms. We took advantage of the lovely weather and explored lots of outdoor learning opportunities. To continue our theme of "Love", which is also our Christian Value this term, we talked about the importance of loving ourself. We then drew pictures of ourselves to put up on our mark making display.
Forest School ~ Wednesday 11th September 2019
Nursery enjoyed their first Wednesday in the woods. We dressed in our wellies and waterproofs and packed a picnic. We talked about the different areas in the Forest School, mud kitchen, nature potions, music area, den building, construction area, reading area and the stage. We played some games and sang some songs. We then ran in and out of the trees and made some music. We spotted a frog in the wet grass and then we found a tiny, baby newt on one of the pallets. We then had our picnic, freshly baked muffins, which we made this morning with our own apples, drank milk and read the story of 'We're going on a bear hunt!' Great fun had by all!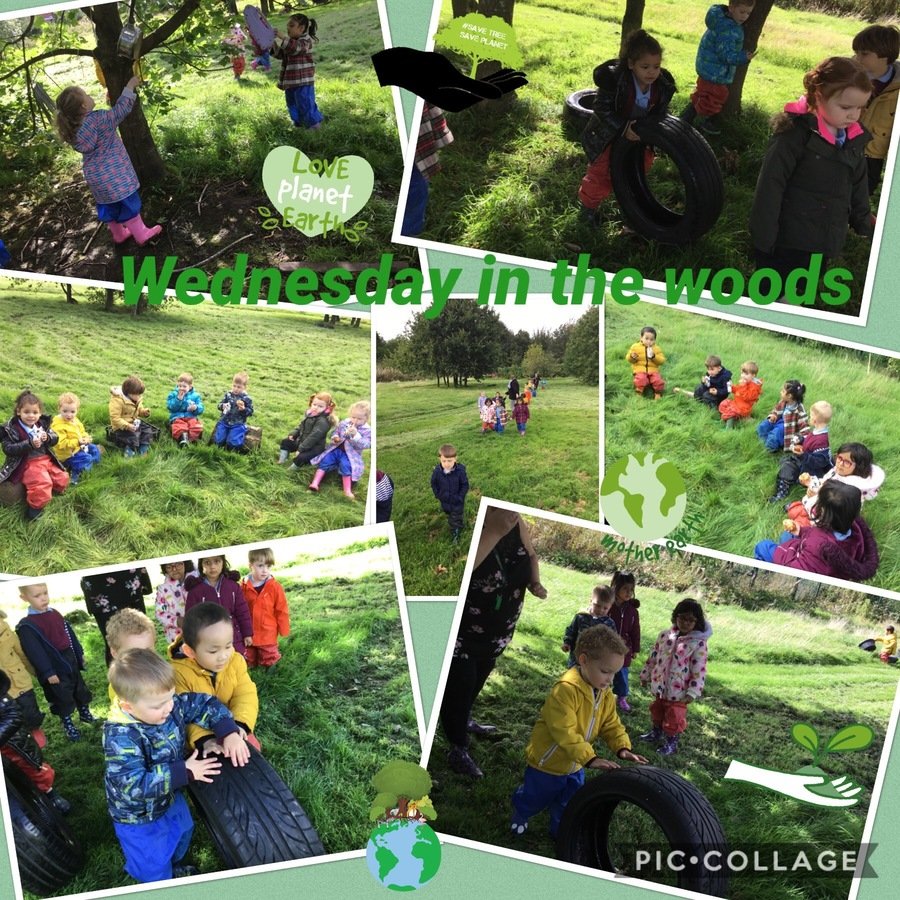 W/E Friday 13th September 2019
We have been so lucky with our apples this year. We have an enormous haul of apples and today we have started picking them. We counted the apples as we collected them and we tasted them at snack time. They are delicious and taste so juicy and fresh. We washed them and have taken some of them to the staff room for the teachers to eat at lunchtime. Some of them had been nibbled by little creatures so we used these to do some apple printing. We are planning what we would like to make with our apples and are looking forward to baking our own treats for snack time.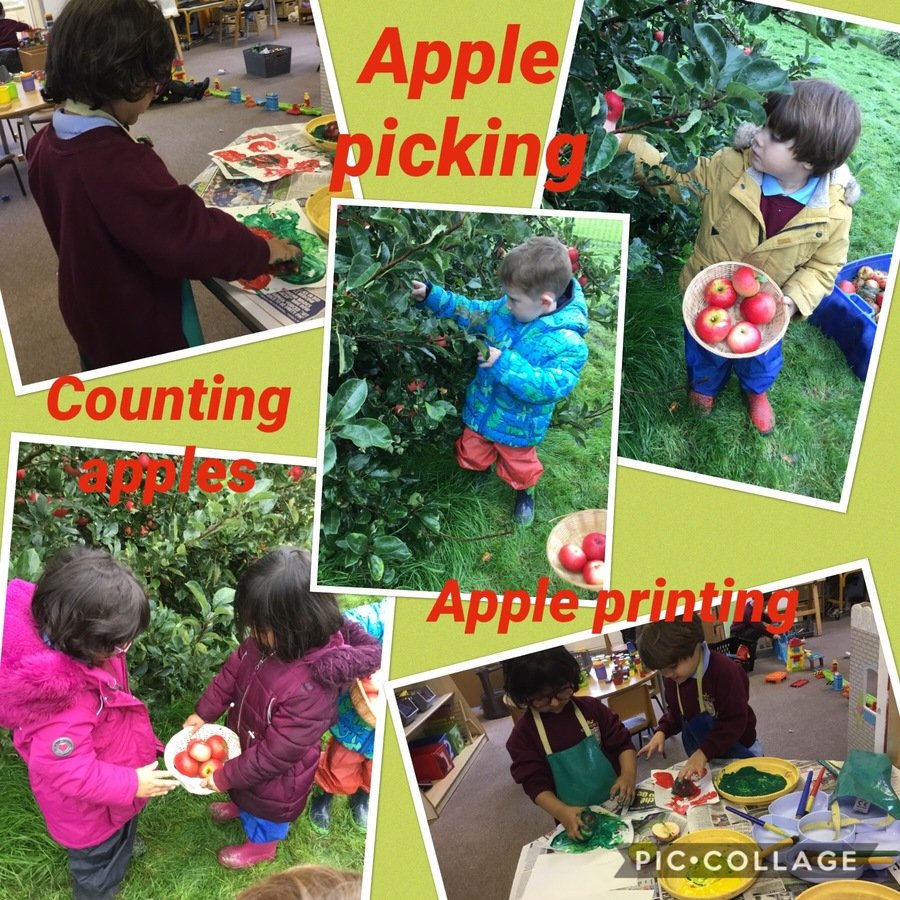 Friday 6th September 2019
We have had a busy first week at school. It has been lovely visiting our new families, meeting the new children and getting to know their parents. We had some very happy children starting Nursery at the end of the week. Lots of smiles all round from the children and staff and a few tears from the parents! We are welcoming even more new children next week so lets hope for more smiles.

Converting