Nursery Learning from home:
Nursery
2019-20
Teacher - Mrs L Smith
Supported by Mrs K Clift and Mrs L Ryan
For up to date news, follow us on...



Convertinonverting
Welcome to Nursery 2019 - 2020
Our next intake will be in September 2020. For information about nursery places, or to arrange a time to come and look around, please visit our admissions page or contact school on
0161 764 1132 or email the school at ststephens@bury.gov.uk
In the Summer Term we will be hosting an Open Day for prospective families to visit our Nursery. Please look out for the date and time.
Crime Scene ~ Friday 13th March 2020
The children came into Nursery on Wednesday to find that an intruder had been into the Three Bear's Cottage! The intruder had eaten Baby Bear's porridge (and kept a mess all over the table), broken Baby Bear's chair and slept in everyone's bed. We were determined to find who had committed the crime. We had a few suspects, we conducted some investigation work and looked at the evidence. Our prime suspect was Goldilocks but she had gone into hiding. Goldilocks eventually came clean, she admitted what had happened, tidied up her mess and begged forgiveness. The children listened to her side of the story and decided to forgive her.
Vocabulary Parade ~ Friday 6th March 2020
Friday 6th March 2020
Love to Read Week
We have had a busy 'Love to Read Week' in Nursery. Our Book of The Week was The Three Billy Goats Gruff. The children loved joining in with "who's that trip trapping over my bridge" and had great fun changing their voices to match the different sized Billy Goats. We have welcomed our Parents to our drop in sessions to allow the children to show them their favourite places to play and learn. On Wednesday it was our Stay and Read session. We had parents and grandparents visit the children and share a variety of books with the children. We then had snack together and all sat down for another rendition of the story. We have also been learning about germs and the importance of washing our hands. The children watched a demonstration of how to wash their hands and joined in singing The Happy Birthday Song. On Thursday, we had a visit from a Mystery Reader. The children loved hearing the story of 'Aliens love Underpants'' read by Mrs Garside. The week ended with a wonderful 'Vocabulary Parade'. Children came to school dressed as a word and paraded through the school for everyone to see. Our Reading Heroes chose their winning costumes. Our winners were 'smart' and 'cleaning'.
Friday 28th February 2020
This week we have been learning about Lent. We talked about Shrove Tuesday and the importance of this day in the Christian calendar. We then made Lent promises and said prayers to thank God for our beautiful world. We made pancakes, measuring out the ingredients, then cooking and tasting them with sugar and lemon. Our Wild about Stories session was Little Red Riding Hood. We retold the story and the children had to do a scavenger hunt finding the healthy fruit to take for a Grandma.
Tuesday 25th February 2020
Please find below letters regarding EYFS Stay and Read sessions and also a letter regarding Nursery Parent's Consultation Week.
Our topic for the next Spring term is 'Will you read me a story?' This topic is based on Traditional Tales. We will be exploring fairy tale characters, goodies and baddies, homes and castles and magic and fantasy. We will be asking questions such as "Was the Big Bad Wolf really so bad?" And "How many bowls of porridge did Goldilocks eat?"
Our topic for the Spring term is "Why is water wet?". We will be exploring questions such as "How can we stay dry on a rainy day?" "What happens to the water in a puddle on a sunny day?" these questions and more are all explored in this project about water and its properties.
Possible lines of enquiry include:
• the properties of water
• floating and sinking
• staying safe near water
• things that are waterproof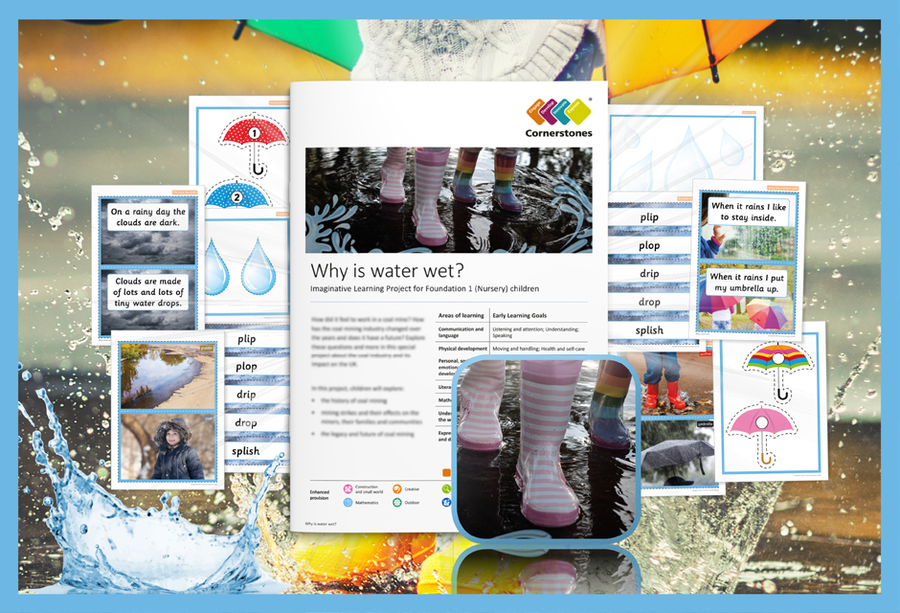 Wednesday 12th February 2020
During our Forest School session, the children retold the story of The Three Little Pigs. It was so windy today that we felt like we were being blown around by the Big Bad Wolf! We cooked some campfire beans and ate them in the campfire circle but had to make a quick dash inside when a hailstorm came!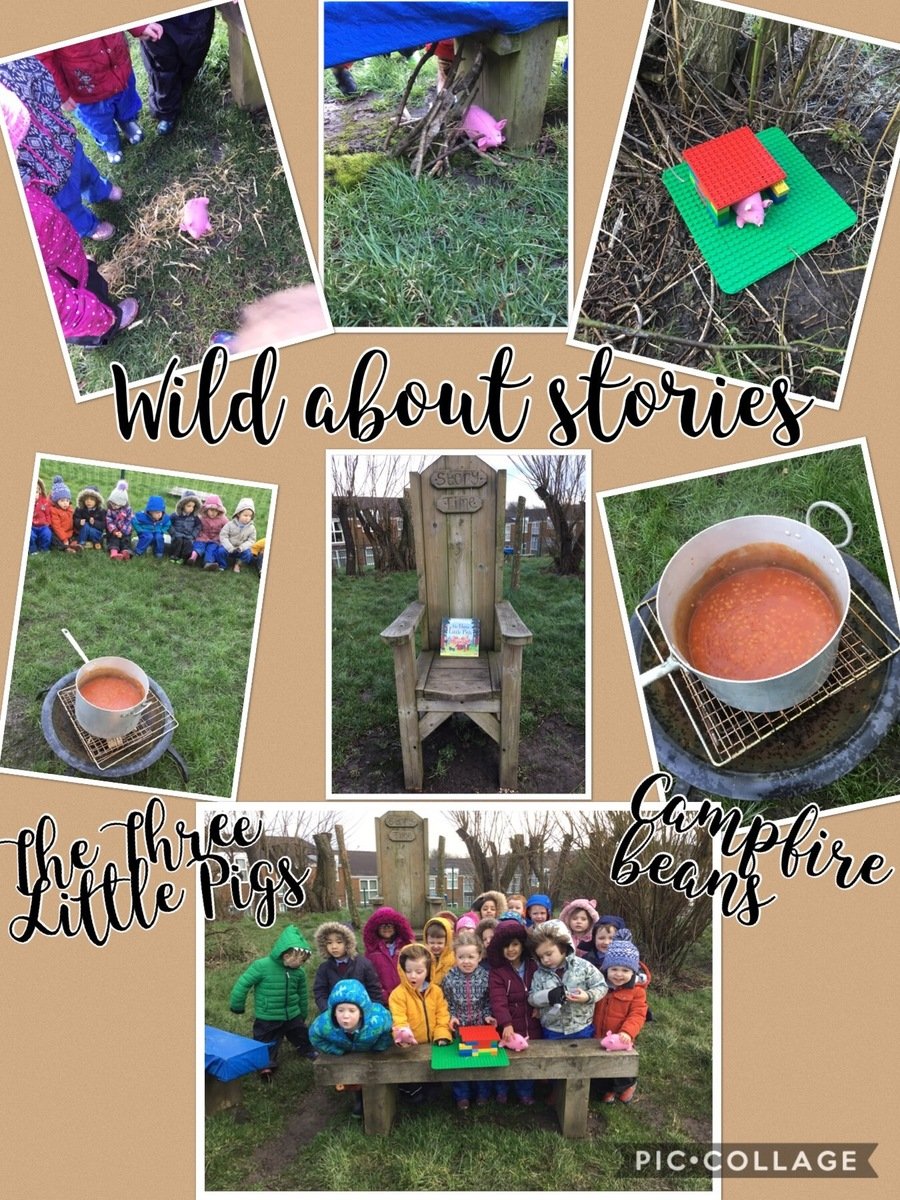 Monday 10th February 2020
Today we investigated the properties of materials. We talked about the Three Little Pigs and explained that they wanted to make their own tent and go camping. We chose 4 different materials to test, cloth, binca, cellophane and paper towel. The children then made their predictions. Each child had a cube and put their cube into the material which they thought was going to be the most waterproof. We then tested these materials by putting the same amount of water into each cup, covering each cup with the material and securing it with an elastic band. We then tipped the cup over and timed how long it took for the water to leak through the material. We found out that the cellophane was the most waterproof and the water did not leak through at all. 14 children predicted this! We then made a tent out of cellophane and the children enjoyed playing with the pigs on their camping holiday.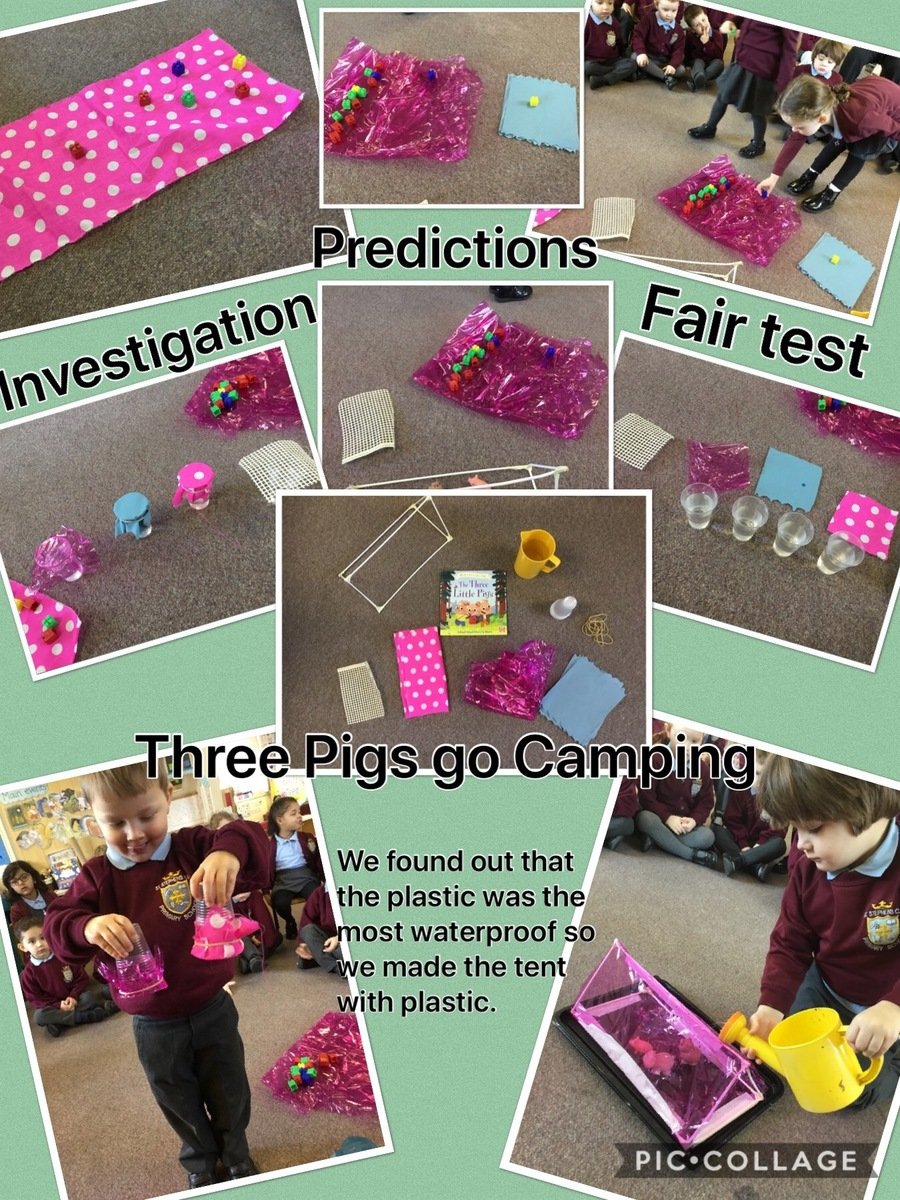 Friday 7th February 2020
In RE we have been reading the story of how Jesus calmed the storm. We investigated boats and made our own boats. We took them into the water area to see if they would float. We have been working on lots of mathematics skills, we investigated maths outdoors and matched quantities to numerals, we have learned about the part whole method looked at ways that we can partition numbers . In Forest School, we retold the story of The Gruffalo and went on a hunt around the willow, looking for the characters and retelling the story as we went. We ended our topic of Chinese New Year with a Chinese Banquet of spring rolls, prawn crackers and stir fried noodles.
Friday 1st February 2020
We have been continuing our learning about The Chinese New Year. We read the story of the Zodiac Race and learned about why the years are named after different animals. We put the animals in the correct order using ordinal numbers. We also enjoyed a bit of dragon dancing, we made our own Chinese music using the instruments and danced along with our dragon props. In Forest school, we retold the story of 'We're Going on a Bear Hunt'. We even had real thick, oozy mud and actually got a little bit stuck in it! When we got back to Nursery we enjoyed a campfire treat of toasted marshmallows around the campfire.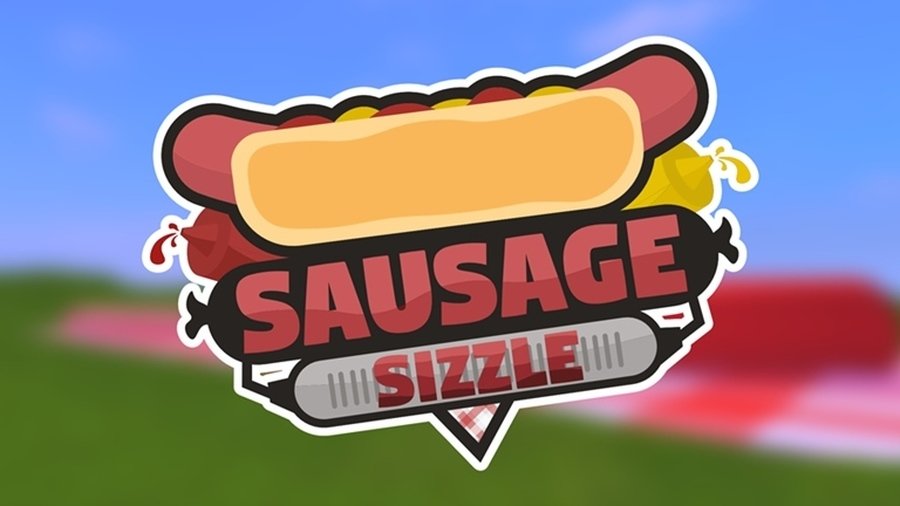 Friday 24th January 2020
EYFS held a Sausage Sizzler after school tonight as part of their Australia Day celebrations to raise extra money for the Wildlife Recovery Fund on Kangaroo Island. Thank you to the children and their families who bought our delicious sausages, the money collected will help the threatened and vulnerable species affected by the terrible bush fires.
Tuesday 21st January 2020
This week is a very busy week in Nursery! It is RSPB big school's birdwatch, Australia Week and the beginning of Chinese New Year celebrations. We started the week reading about Peppa Pig's Giant Muddy Puddle. We talked about how floods happen when it rains a lot and how Grandpa Pig used his boat to travel on the water. We blew through straws into water and soap to create bubbles and made some bubble prints with the bubbles that we made. We discussed Australia and how it is very hot and the fact that they haven't had much rain so the land is very dry. We learned about the bushfires and how water has been used to put the fires out. We have also introduced the children to the topic of Chinese New Year by creating the Red Dragon Cafe in our role play area. AND... it's only Tuesday!!
Friday 10th January 2020
This week we have welcomed our new children into the St Stephen's family. The "old guys" have been excellent role models and have been really helpful, kind and caring. Our new friends have settled in and it feels like they have been here for years! Well done, we are very proud of you all.
Our topic this term is 'What happens when I fall asleep'. This topic will explore night time and what the world is like at night. We will ask questions such as "Why are there stars in the sky at night?" And "Does everyone go to bed at the same time as me?"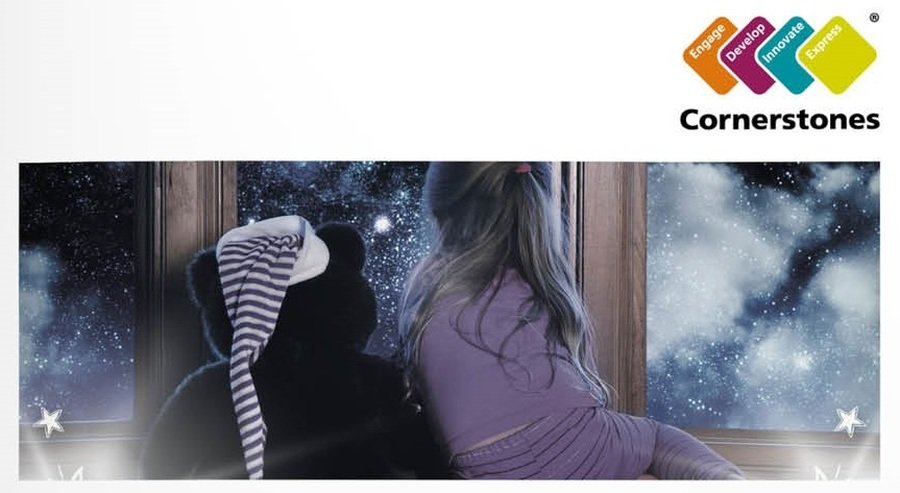 W/E ~ 19th December 2019
Today we performed in our very first EYFS Nativity performance. We have been practising our songs, dances and words for a few weeks and today we performed our show in front of over 100 friends and family members.
W/E ~ Friday 13th December 2019
Today, we have worn our Christmas jumpers to raise money for Save the children UK.
WE ~ 6th December 2019
This week we have transformed into Santa's Little Helpers! The Nursery elves have been very busy designing toys, making toys, painting toys, wrapping toys and then putting them in the sleigh for Santa to deliver. We have had a great time dressing up and being imaginative in Santa's Workshop!
Forest School ~ Wednesday 4th December 2019
This week we have been busy making natural tree decorations to decorate the trees in Forest School. We had to work our little fingers very hard to thread and weave to make our decorations. We took them to Forest School and were very pleased with how they looked. The birds will love them as well!
W/E ~ 29th November 2019
This week we have been learning about the True Meaning of Christmas. We opened our special box and found lots and lots of angels. We talked about what the angels looked like and we learned about how angels are messengers from God. We then read our special story, The Owl and the Little Star. This introduced us to the story of the Nativity. We have been learning about the special people in the story and have been learning and singing songs. We even have our own stable where we can dress up and retell the Christmas story. We also enjoyed decorating our 'real' Christmas tree. The branches felt prickly and the baubles kept falling off. We had to choose the big strong branches to hang them on!
Forest School ~ Wednesday 27th November 2019
This afternoon we went to Forest School to look for Nursery Rhyme Characters which had been hidden amongst the trees. We went off in pairs to find a basket and took it back to the campfire circle. Mrs Smith gave us some clues so we could guess the rhyme. We then joined in singing the rhyme and doing the actions. We loved looking high and low in the trees and it was great to squelch in the mud. Henry fell off the log during our rendition of Humpty Dumpty! So we changed the words to "Henry Henry sat on a log, Henry Henry fell in the bog!" The children thought it was hilarious!
W/E ~ 29th November 2019
Our Book of the Week is 'The Way Back Home' by Oliver Jeffers. We have continued thinking about the setting, characters and the main events in the story. We looked at a selection of pictures and put them in the correct order to help us to retell the story. We have also been learning about planets and have made some paper mache planets for our classroom. We have continued to think about Trust. We read the story of Noah's Ark and talked about how Noah trusted God when he told him to build an ark. The children painted their own rainbows.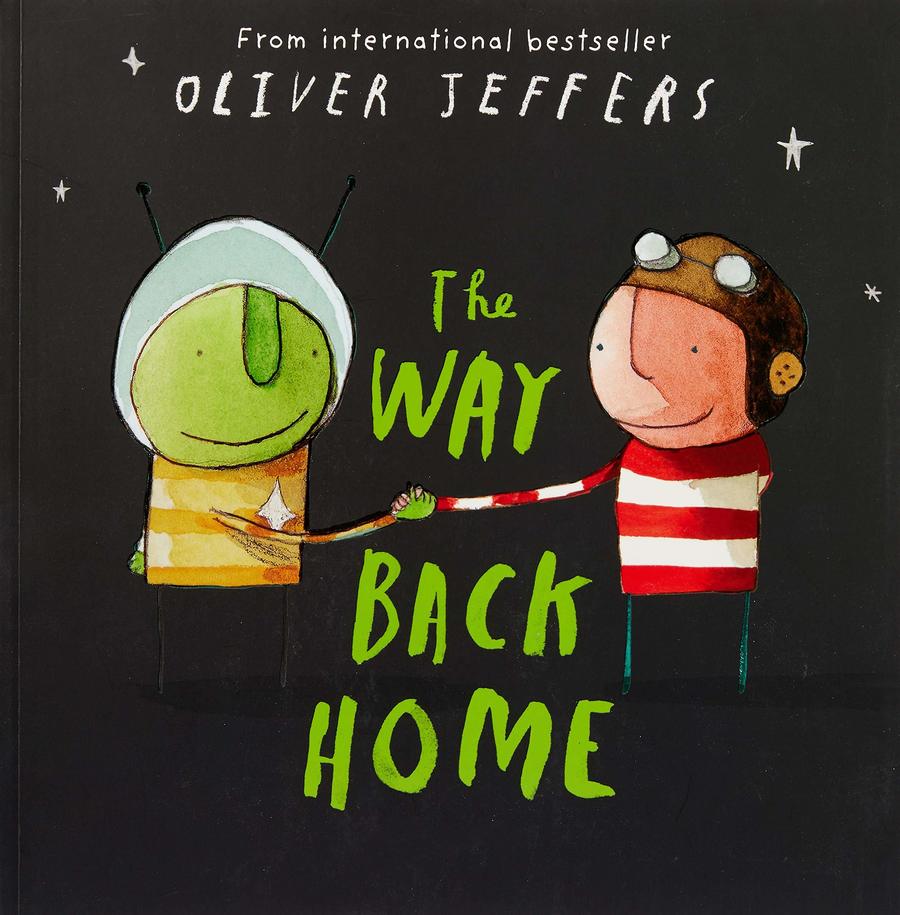 W/E ~ Friday 22nd November 2019
This week we enjoyed World Nursery Rhyme Week. We used puppets to sing and join in with Baa Baa Black Sheep, Down in the Jungle, Incy Wincy Spider, Row, row, row your boat and Two Little Dickie Birds. We enjoyed singing the traditional rhymes but we also had great fun changing the words to make the rhymes even funnier! Have you ever heard of Baa Baa Pink Sheep?
W/E ~ Friday 15th November 2019
Our Book of the Week is Whatever Next! We enjoyed the story of Baby Bear and his rocket adventure. We had our own role play area and pretended that we had travelled to the moon. We packed our own picnic and had it on the moon. We have been learning about 3d shapes and we used the shapes to build rockets. We have also been learning about 2d shapes. We enjoyed using the computer to sort the shapes into the correct shape monster. We made chocolate apples as part of our firework topic and explored different ways of firework mark making. We have also been working hard with Helen in PE. We have been balancing along the bench and jumping in the hoops.
W/E ~ Friday 8th November 2019
This week we have been learning about Diwali. We talked about the Festival of Light and made our own Diva lamps in the playdough. We also looked at Mendhi patterns and decorated some handprints with spots and stripes. We had great fun in our giant firework splat session, it was very messy! On Outdoor Classroom Day, it rained pretty much all day! In the afternoon, we put on our waterproofs and wellies and went outside. We filled one puddle with blue paint and the other puddle with red paint and used the sweeping brushes to mix the colours together. We made purple! In phonics we explored the letter 's' by making 'Silly Soup' and we investigated what we could find in the 'Silly Spaghetti'.
Our topic this term is 'Why do you love me so much?' This topic is based around love, families and how people are the same and different.
W/E ~ Friday 11th October 2019
Nursery have been continuing our Christian Value theme of 'Love'. This week, our Book of the Week was 'Guess how much I love you in the Autumn'. This helped us to learn about the season of autumn and what things we might find. We have a new 'Autumn Lookout' so that the children can use binoculars and telescopes to look out of the window. We often get birds, squirrels and a local cat visiting our pathway so hopefully the children will spot some interesting things. We have also been busy with our 'Squiggle while you Wiggle' work and the children enjoyed their mark making session on Friday.
Forest School ~ Wednesday 9th October
Forest School was wet and windy today. We made pinecone spiders under the shelter. The wind kept blowing up the tarp and the rain was noisy! On our way back to nursery, we splashed in muddy puddles. We also found a wobbly bit of grass that we enjoyed balancing on. The grass was moving beneath our feet!
W/E ~ Friday 4th October
This week we have had lots of maths activities inside. The children set themselves a challenge to see who could make the longest chain. They were very patient when they were attaching the links together. The children have also been looking at numerals and different ways to represent numbers. Outside the Mud Kitchen turned into a Soup Kitchen with the addition of some extra ingredients!
Forest School ~ Wednesday 2nd October
Today we used the continuous provision areas in Forest School. We took mud, water and some books for the Reading den. We enjoyed working in the Mud Kitchen and the Nature Potions. We also used the magnifying glasses to look for creatures. Our focused activity was making a leaf creature. The children collected items to make their creature and then they added google eyes to it. We talked a lot about the shape, size and texture of leaves and the children are getting good at recognising the seeds which they find in the Forest.
W/E ~ Friday 27th September 2019
Today it rained ALL day! ☔️ In the afternoon we set up a physical challenge session for the children based on 'The Cube'. The children completed a series of tasks using their hand/eye coordination, balancing skills, speed and agility. It was lovely to hear all of the children cheering and clapping for each other when they had completed their tasks!
Forest School ~ Wednesday 25th September 2019
We had a really busy afternoon today. First of all we took some time to walk around the nursery garden and the school field to look for autumn treasures. We also observed the changing colours of the trees. We also found hundreds of brightly coloured berries on the trees.
We then worked hard together, as a team, to start to build our 'Minibeast Mansion'. Each child has added something to the Minibeast hideaway and enjoyed seeing the 'Mansion' take shape. Whilst we were there we found some minibeasts who had already started to settle there. We found a newt, lots of snails, spiders and a ladybird. It looks like it is going to be a popular spot!
W/E ~ Friday 20th September 2019
We enjoyed badminton with Adam, developing our hand/eye coordination using the rackets and pom poms. We took advantage of the lovely weather and explored lots of outdoor learning opportunities. To continue our theme of "Love", which is also our Christian Value this term, we talked about the importance of loving ourself. We then drew pictures of ourselves to put up on our mark making display.
Forest School ~ Wednesday 11th September 2019
Nursery enjoyed their first Wednesday in the woods. We dressed in our wellies and waterproofs and packed a picnic. We talked about the different areas in the Forest School, mud kitchen, nature potions, music area, den building, construction area, reading area and the stage. We played some games and sang some songs. We then ran in and out of the trees and made some music. We spotted a frog in the wet grass and then we found a tiny, baby newt on one of the pallets. We then had our picnic, freshly baked muffins, which we made this morning with our own apples, drank milk and read the story of 'We're going on a bear hunt!' Great fun had by all!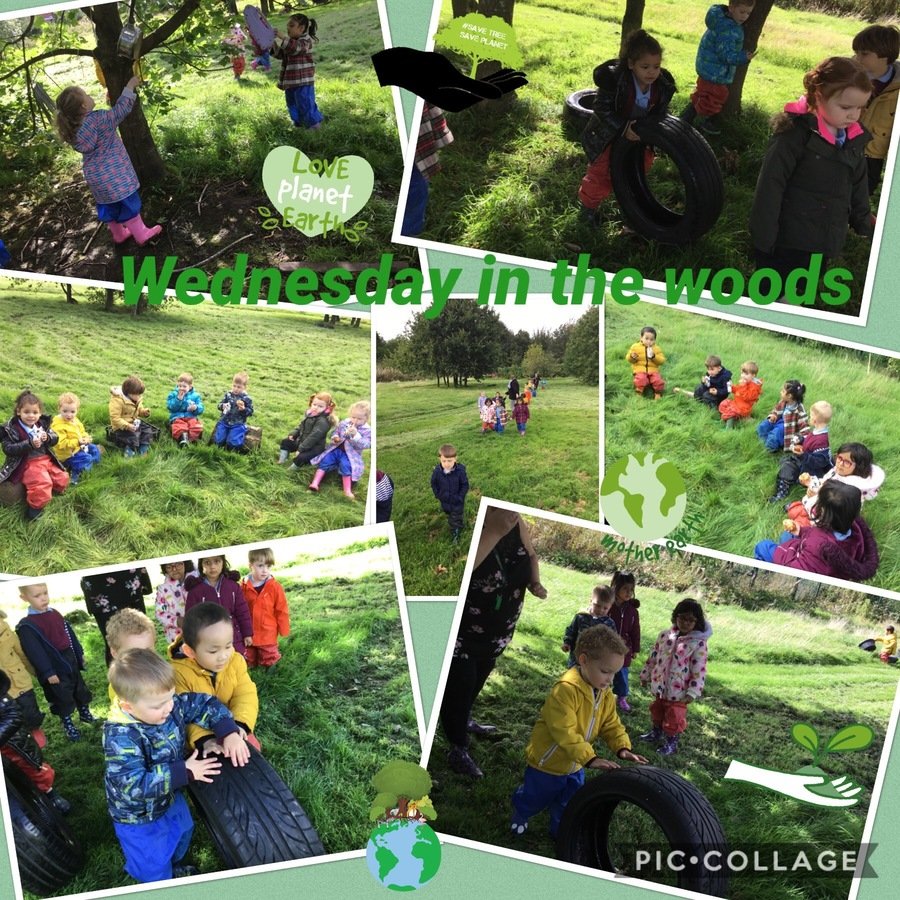 W/E Friday 13th September 2019
We have been so lucky with our apples this year. We have an enormous haul of apples and today we have started picking them. We counted the apples as we collected them and we tasted them at snack time. They are delicious and taste so juicy and fresh. We washed them and have taken some of them to the staff room for the teachers to eat at lunchtime. Some of them had been nibbled by little creatures so we used these to do some apple printing. We are planning what we would like to make with our apples and are looking forward to baking our own treats for snack time.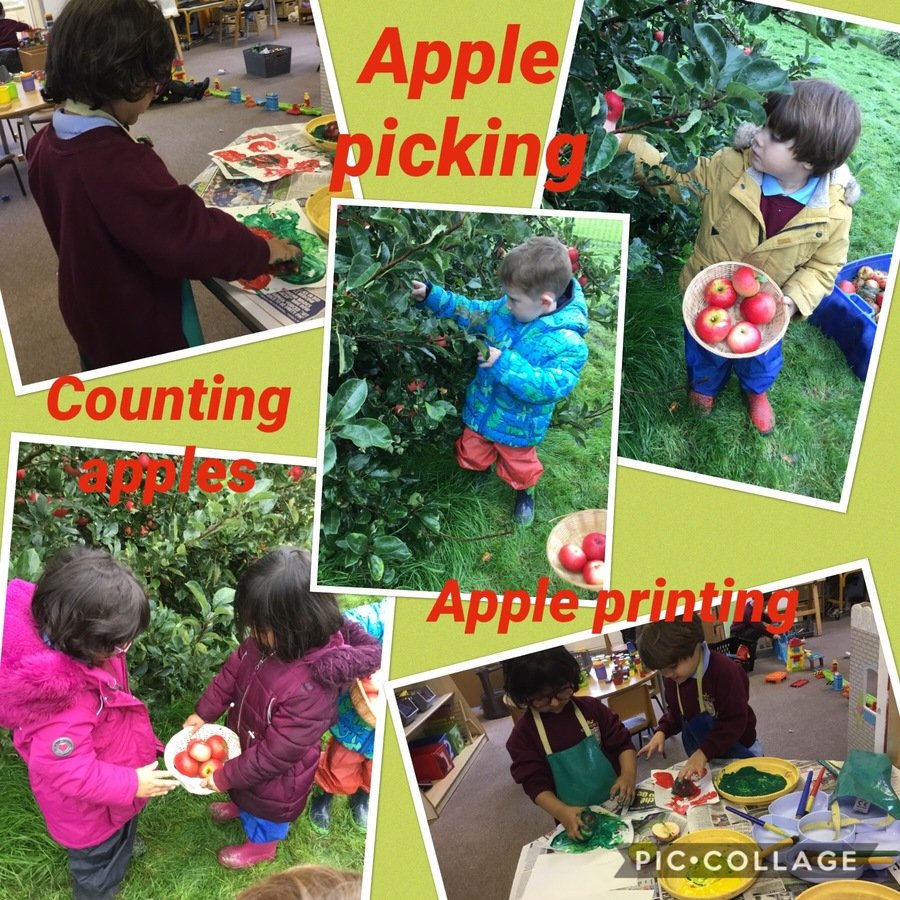 Friday 6th September 2019
We have had a busy first week at school. It has been lovely visiting our new families, meeting the new children and getting to know their parents. We had some very happy children starting Nursery at the end of the week. Lots of smiles all round from the children and staff and a few tears from the parents! We are welcoming even more new children next week so lets hope for more smiles.

Converting