ConvertingYear 5/6
Learning, loving and growing; together as God's children
Class Teacher: Mrs A Gunn
Supported by Mrs D Byers
PE Days Summer 1: Wednesday and Friday
Scroll to the bottom of this page to access the LEARN page for remote learning when isolating.
Keeping Safe Online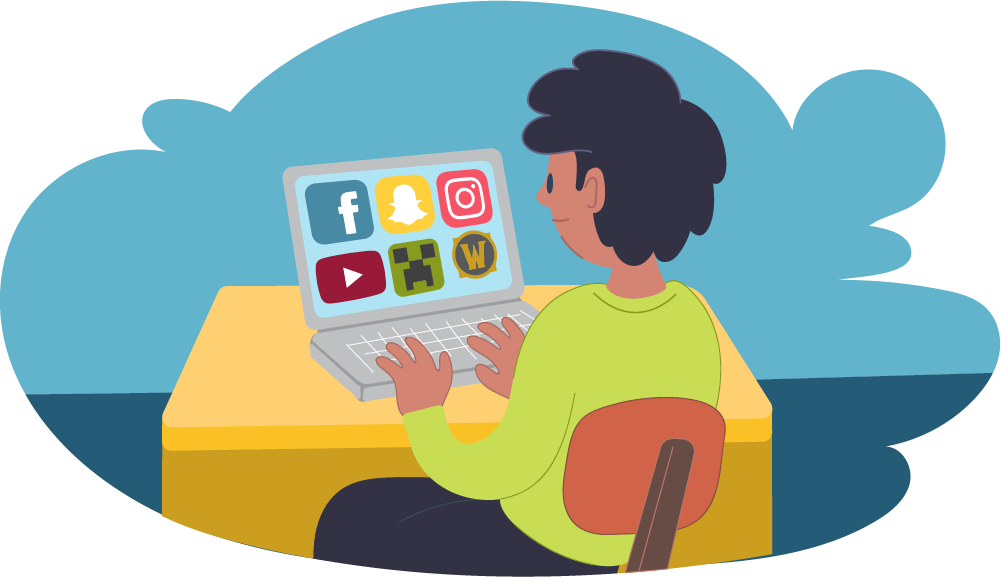 Converting
In our computing lessons we have been learning about how apps can access our personal information and how we can alter the permissions on our devices to stay safe online. Check the information at the following links for details about how to change settings to protect your children.
Google App Permissions (To change app permissions on an Android phone)
Apple App Permissions (To change app permissions on an iPhone)
Microsoft App Permissions (To change permissions on a laptop or PC)
Elton Reservoir Local Area Study
Last week, Year 5/6 joined Year 5 and Year 6 to take part in a local area study as part of our Geography learning, at nearby beauty spot, Elton Resevoir. We learned so much about this important local amenity, in particular how the surrounding land is changing for the better and worse. We made notes of the human and physical features and enjoyed seeing some of our wonderful local wildlife. We had such a great afternoon of learning the children are determined to return in the Summer term for a visit, so watch this space...
Welcome to a new and exciting year of learning in Year 5/6!
Converting
Happy New Year to you all in Year 5/6! May I take this opportunity to thank all children and their parents for the most generous and lovely gifts we received in the final week before the break for Christmas. It is very much appreciated. Miss Shaylor and Mrs Byers also send their thanks. We can't wait to welcome you back - there is so much to look forward to this term. For your information, our PE days are Wednesdays and Thursdays, so please remember to come dressed for PE on those days.
Pharaohs
Converting
It's a new year and time to begin a brand new exciting topic: Pharaohs. We will travel back 5000 years, to the dusty realms of ancient Egypt, entering a world of mysteries and curses, mummies and kings. We will unravel the secrets of ancient tombs, using historical sources and ancient artefacts and find out about powerful pharaohs and grandiose gods. We'll make death masks fit for a Pharaoh and their journey into the afterlife. Who knows what treasures we will find?
Converting
Our new class novel is the wonderful Secrets of a Sun King. If you would like to buy a copy of the book please click the following link. It is not compulsory but I know that many of you enjoy having your own copy for our English lessons.
This term there are some exciting projects for you to complete at home. For every challenge you complete you will receive class Dojos but there is also an opportunity to win a book prize during the last week of term when we will exhibit all of your wonderful learning projects! Please click on the document below to see the list of exciting learning projects.
Here are some helpful websites when working on your Pharaohs projects or if you would like further information on all aspects of Ancient Egypt...
BBC Bitesize – Ancient Egypt – KS2 History
Britannica Kids – Ancient Egypt
BBC – How does the River Nile help people survive in Egypt?
BBC Bitesize – Who was Tutankhamun?
Year 5/6 to take part in exciting new project
Converting
We are so excited that Year 5/6 at St Stephen's has been chosen, along with classes from three other Bury schools, to take part in an exciting national project called Heartstone. It centres on reading the book 'The Heartstone Odyssey' which deals with the issues of racism, xenophobia and intolerance. Heartstone is part of a nationwide initiative in which schools across the UK are using the book to raise discussion on these issues which have become a high priority and we are delighted to be part of the first set of schools to take part in this initiative in the authority.
The story is a 'Harry Potter' type story based on the heroine, Chandra, and the mice who become her friends. As well as being an adventure in its own right, it also deals with every aspect of hate crime and provides a route through which children age 8-12 can understand what this means, how it manifests itself in everyday life and what to do about it if they come across it. We held our first story circle this week and the children discussed what it means to be 'foreign' and 'what is empathy?'
For more information about the project click here.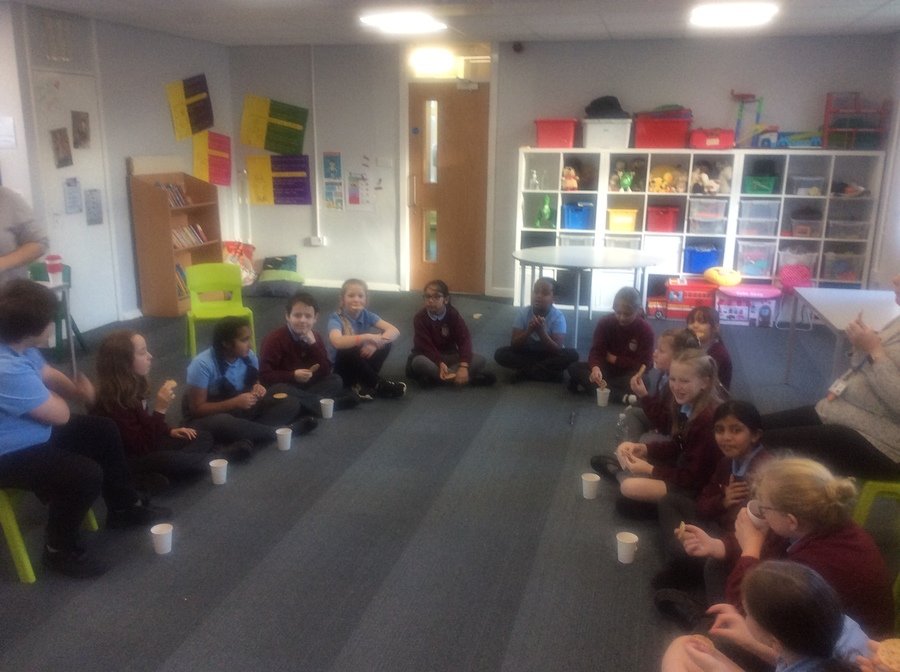 A day to remember...
Today we spent a memorable day at Bury's Fusilier Museum where we learned all about life on the Home Front during WW2. We met, and were drilled by a real-life Sergeant Major and learned all about life during the war through role-play and artefact handling. For most children, this was their first educational visit outside of school since the beginning of the pandemic, and for all of us (adults included) a fantastic experience. Well done to all of our children for displaying amazing learning attitudes and representing our school so well. We have had a wonderful day and look forward to many more visits to come.
Our class, our happy place...
Here in Year 5/6 we have had a wonderful term, packed full of learning, much of it based on our curriculum theme: A Child's War. I am so proud of everything the children have achieved so far this year. Take a look at us on our last day of Autumn 1 term, publishing our wonderful writing and using watercolours to create Blitz landscapes...
Home Learning Superstars
A big thank you and well done, to those children who completed this term's home learning challenges. We have loved seeing your WW2 'Make do and Mend' creations, incredible art and of course, tasting your home cooking! And a big thank you for all parents and carers who have supported their children in their home learning this term...
Gymnastics Superstars
Our coach, Mrs Cooper has been blown away with the progress made by all of our Year 5/6 children in gymnastics this term. We are blessed with some very talented children in our class...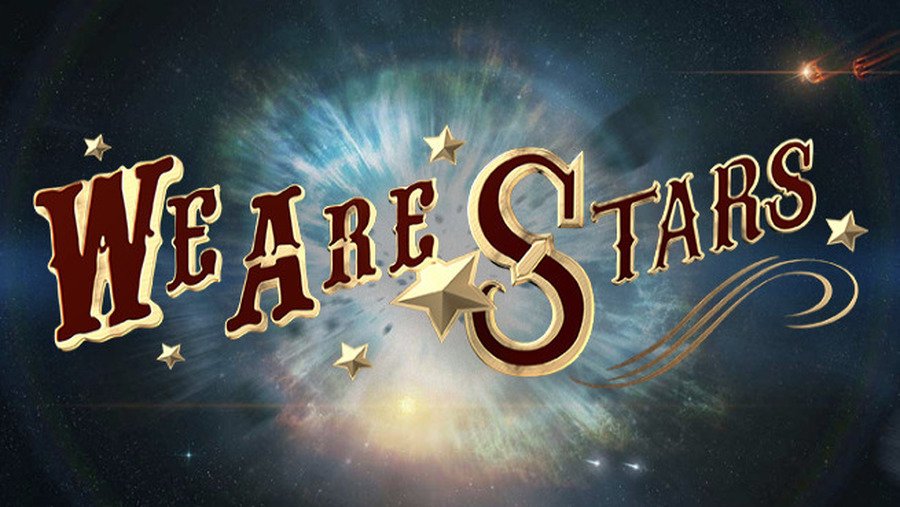 Class Superstars
At St Stephen's we love to celebrate the achievements of our children, whether it be good learning or good character - demonstrating our Christian Values. Here are this term's 'Good Learners' and 'Golden Jumper' winners so far...
W.C. 06.09.21
Golden Jumper - Malayeka - for positive attitude and enthusiasm and her sunny personality!
Good Learner - Lola - for motivation in her maths learning.
W.C. 13.09.21
Golden Jumper - Seren - for making me feel so welcome as class teacher.
Good Learner - Ellashayne - for fantastic writing linked to Letters from the Lighthouse.
W.C. 20.09.21
Golden Jumper - Abigail - for demonstrating what it means to be an independent learner.
Good Learner - Sofia - for her growing confidence in maths.
W.C. 27.09.21
Golden Jumper - Lamiah - for her mature and helpful approach to learning and supporting her peers.
Good Learner - Eliza - for fabulous independent writing, confidence in maths and being the first to crack a code!
W.C. 04.10.21
Golden Jumper - Mateusz - for being quietly determined in all areas of his learning.
Good Learner - Sinead - for outstanding learning in History.
W.C. 11.10.21
Golden Jumper - Taylor - for being a good role model and consistently outstanding learning.
Good Learner - Imogen - for an amazing play script based on a chapter from Letters from the Lighthouse.
W.C. 18.10.21
Golden Jumper - Harvey - for a brilliant attitude to his learning all week.
Good Learner - Jessica - for enthusiasm, focus, persistence and resilience in maths.
W.C. 01.11.21
Good Learner - Maisy - for learning a verse from a war poem by heart and reciting it so beautifully.
W.C. 08.11.21
Golden Jumper - Fatima - for her patience and resilience.
Good Learner - Alfie - for outstanding learning in maths.
W.C. 15.11.21
Golden Jumper - Leo - for his incredible growth mindset in all areas of learning.
Good Learner - Aiman - for outstanding maths learning.
W.C. 22.11.21
Golden Jumper - Layla - for being a walking advertisement for our Christian Values!
Good Learner - Aimee - for having the highest possible standards in all aspects of her learning.
W.C. 29.11.21
Golden Jumper - Hamed - for always being such a positive and cheerful member of our class.
Good Learner - Jessica - for making thoughtful contributions in our Heartstone Project discussions.
W.C. 06.12.21
Good Learner - Abigail - for being an incredible role model for learning.
W.C. 13.12.21
Golden Jumper - Malayeka - for being an extremely positive and hard-working member of our class.
W.C. 03.01.22
Golden Jumper - Joseph - for his positivity and demonstrating our Christian value, Forgiveness.
Good Learner - Sofia - for persistence in Maths - practising and developing her skills until she was confident in her learning.
W.C. 10.01.22
Golden Jumper - Eliza - being a calm, mature, helpful member of our class who children look up to.
Good Learner - Hamed - for making big improvements in his presentation, particularly in maths.
W.C. 17.01.22
Golden Jumper - Maisy - simply for being a ray of sunshine who brightens our classroom every single day.
Good Learners - Alfie and Jessica - for enthusiastically adopting new strategies to improve their independent writing.
W.C. 24.01.22
Golden Jumper - Endurance - for fitting in so well in our class. You haven't been with us long but we love having you in Year 5/6!
Good Learner - Layla - for an exceptional biography all about Tutankhamun.
W.C. 31.01.22
Golden Jumper - Ella-Shayne - for being an amazing example of a resilient learner!
Good Learner - Harvey - for his outstanding artwork. What an amazing artist!
W.C. 07.02.22
Golden Jumper - Aiman - for her resilience in learning.
Good Learner - Ella-Shayne - for incredible growth mindset.
W.C. 21.02.22
Golden Jumper - Jessica - for being an outstanding learner in every possible sense!
Good Learner - Mateusz - for outstanding learning in Maths, particularly fractions.
W.C. 28.02.22
Golden Jumper - Lola
W.C. 07.03.22
Golden Jumper - Sinead
W.C. 14.03.22
Golden Jumper - Alfie
W.C. 21.03.22
Golden Jumper - Aimee
Good Learner - Aiman
W.C. 25.04.22
Golden Jumper - Imogen
Fusilier Museum Educational Visit
Converting
Converting
Our class educational visit to Bury's Fusilier Museum takes place on Wednesday 24th November. This is a wonderful opportunity for the children to find out about life during World War 2 and will support our learning in this term's topic 'A Child's War'. During the visit children will take part in artefact handling sessions, exciting role-plays and interactive discussions.
As part of the experience, we are inviting children to dress as evacuees for the day. Wearing a costume is optional and we are not expecting parents to go to any unnecessary expense, but the children may want to make gas mask boxes or evacuee labels to tie to their coats. We will be walking to the museum, therefore children must have with them a waterproof coat in case of rain and appropriate footwear (not trainers).
A Truly Memorable Experience
Thank you to Malayeka's Auntie, Nazia who we welcomed to our classroom to share her knowledge and experience of the Hajj pilgrimage to Mecca. Our children were fascinated by your explanations of the significance of all the different stages of Hajj. We all understood the importance of this special journey for Muslims from all over the world.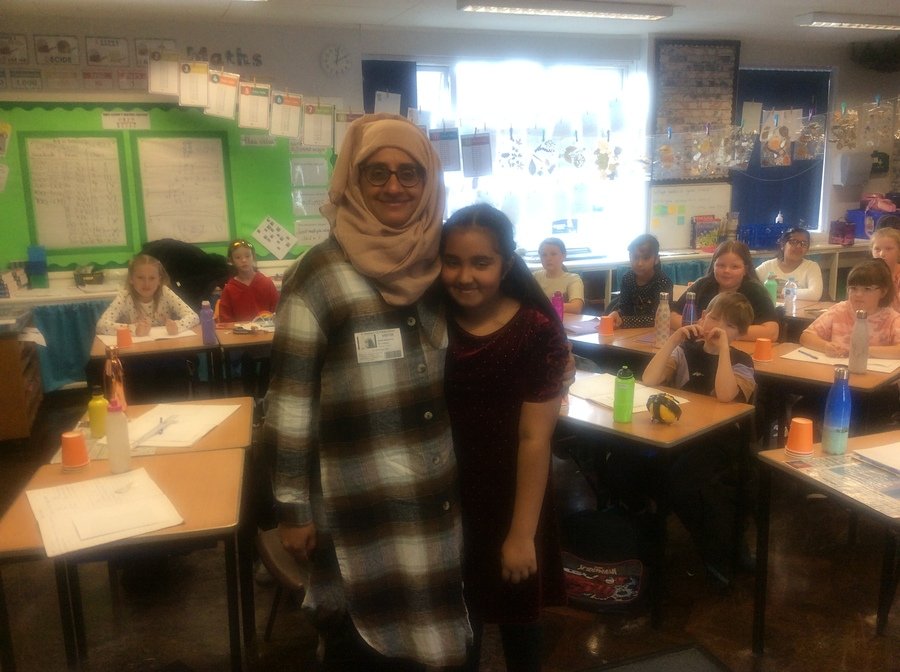 Evacuation Experts
The children have been working very hard this week developing their non-fiction writing skills. Take a look at these fantastic information texts on the subject of evacuation during WW2.
Enjoying the fruits of Autumn
Today we enjoyed a perfect afternoon visiting Forest School. We found there were plenty of rich pickings for our Autumn art activity...
September 2021
Welcome back Vicar Paul - we have missed you!
What a joy to welcome Vicar Paul into Year 5/6 for classroom worship, after what seems like such a long time! Thank you for answering our questions about the impact of Jesus' life on your own life journey....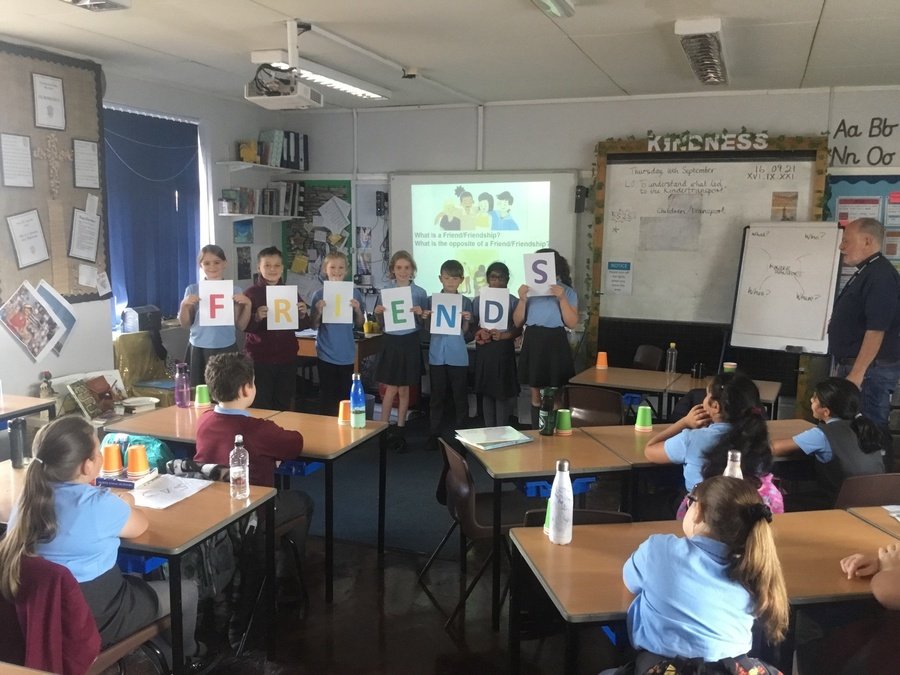 September 2021
Marvellous Mathematicians!
The children have been deepening their learning of place value. This week we have been reading and writing roman numerals and rounding numbers.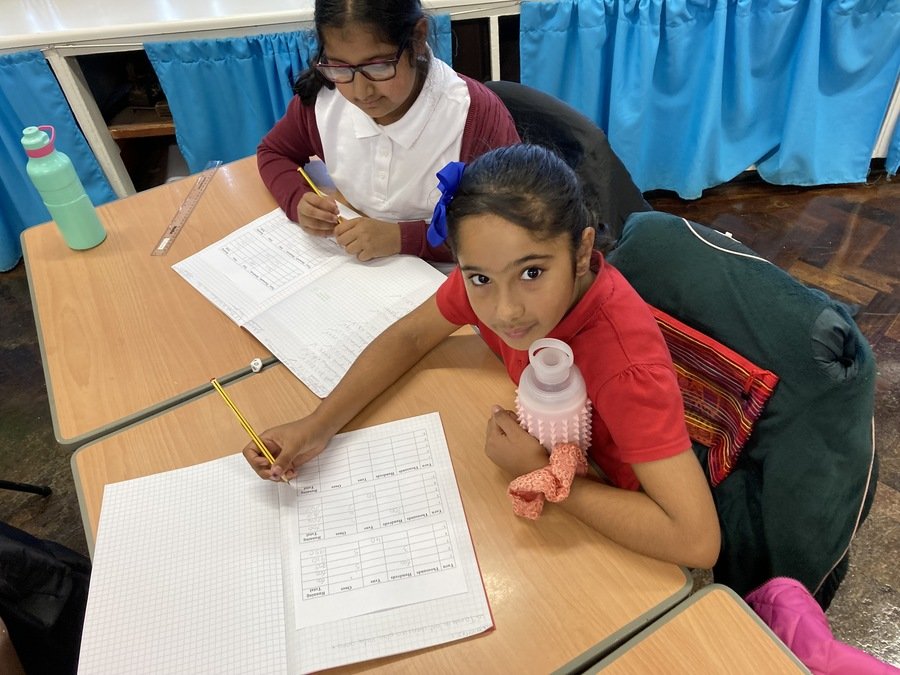 A very warm welcome back to the children after their summer break. I am hugely looking forward to our Autumn term together in Year 5/6, especially as school life is beginning to return a little closer to normal! The children have settled in brilliantly over the last couple of days – they have all shown that they are ready to learn and have been full of enthusiasm. Remember to visit our class page regularly to see what we have been learning, or log-on to Twitter @StStephens_Bury
For full details of class and whole school worship, home learning, PE and class routines please take a look at my 'Meet the Teacher' presentation. You can also download our Autumn term newsletter here.
Mrs Gunn
Converting
Marvellous Maths
Each term we would like the children to be able confidently answer what we call the 'Key Instant Recall Facts'. For Year 5 these are decimal number bonds to 1 and 10. You can download the help sheet here.
In the next few days our new leagues will be set up for this year's Times Tables Rockstars! In the meantime, you can get practising using the password you received last year!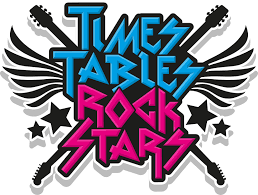 Converting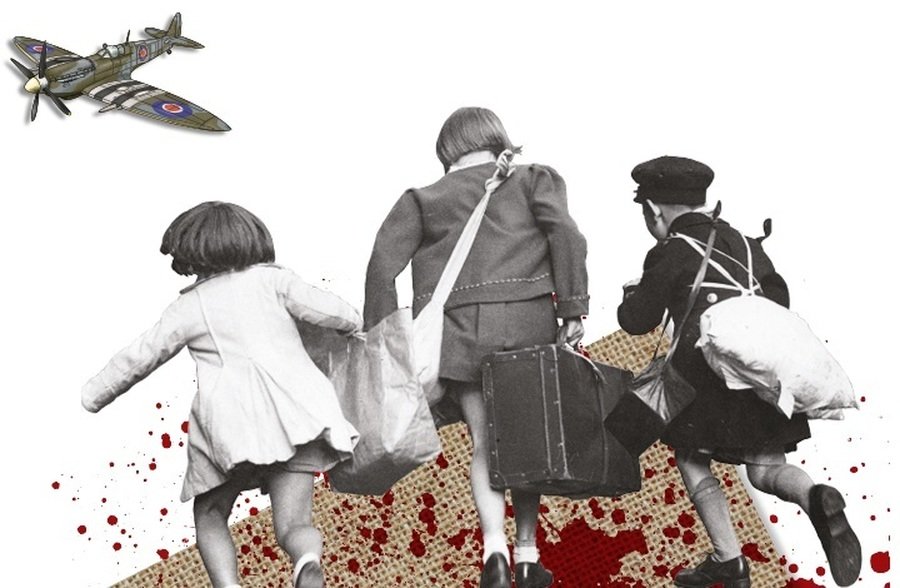 A Child's War
Our topic this term is 'A Child's War' – we will be taking an in depth look into the events of the Second World War…
A siren sounds, a building crumbles, a Spitfire zooms overhead. Take cover. It's 1939 and Britain is at war. Deep down in the Anderson shelter, we will learn why nations were fighting and why child evacuees had to make the long journey from their homes and families into unknown territory. We will find out all about 'Make do and mend', rationing and the effects of war on our home nation. We will delve deep into this bygone era, when loose lips sunk ships…
In addition to weekly homework the children will be given a home learning menu with exciting and creative optional tasks they can complete at home with a WW2 theme. The menu can be viewed/downloaded here.
Letters from the Lighthouse
Converting
Converting
This term we will be reading 'Letters from the Lighthouse', by historical fiction writer, Emma Carroll. The book is an evocative wartime drama set in February 1941 featuring Olive and her brother Cliff who have been evacuated to the Devon coast. At first they feel unwelcome but once they move into the Lighthouse with the Keeper, Mr Ephraim, an exciting adventure begins as Olive tries to solve a coded letter left by her missing elder sister, Sukie.