Welcome to Pre-school Nursery 2021 - 2022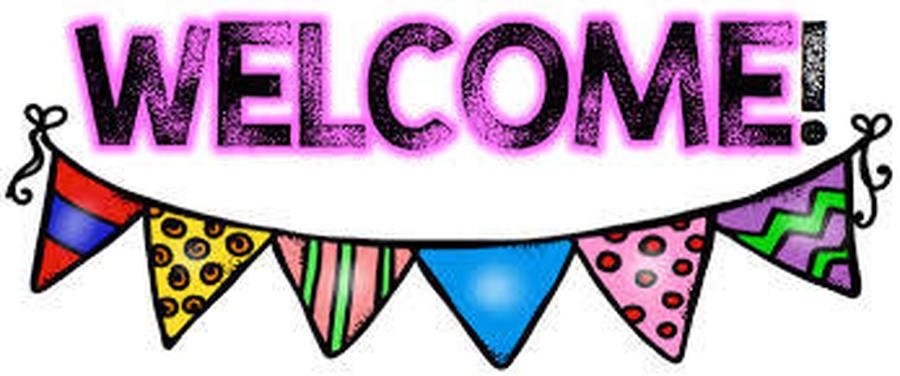 Converting
Our wonderful Pre-school Nursery is run by a qualified teacher and experienced nursery staff. We have a fantastic setting with free flow indoor and outdoor provision and we work very closely with the main school to support transition across the school.
Teacher - Mrs L Smith
Supported by Mrs K Clift
For further information about home learning and our current topics please scroll down. For all up to date news follow us on...

Our next intake will be in September 2021
Our Pre-school Nursery Application Form can be downloaded here.
For information about places, or to arrange a time to come and look around, please visit our admissions page or contact school on
0161 764 1132 or email the school at ststephens@bury.gov.uk
Please ensure you have downloaded and completed the forms below and returned them to the school office either via e-mail or post. Thank you.
Week 3
Our 'Book of the Week' was The Colour Monster. We have been learning about different emotions and how to deal with them. Mark making has been very popular this week and we have introduced our new children to 'Squiggle while you Wiggle'. What a great way to start our day! We have been completing lots of work on colour this week and have been colour mixing and colour sorting.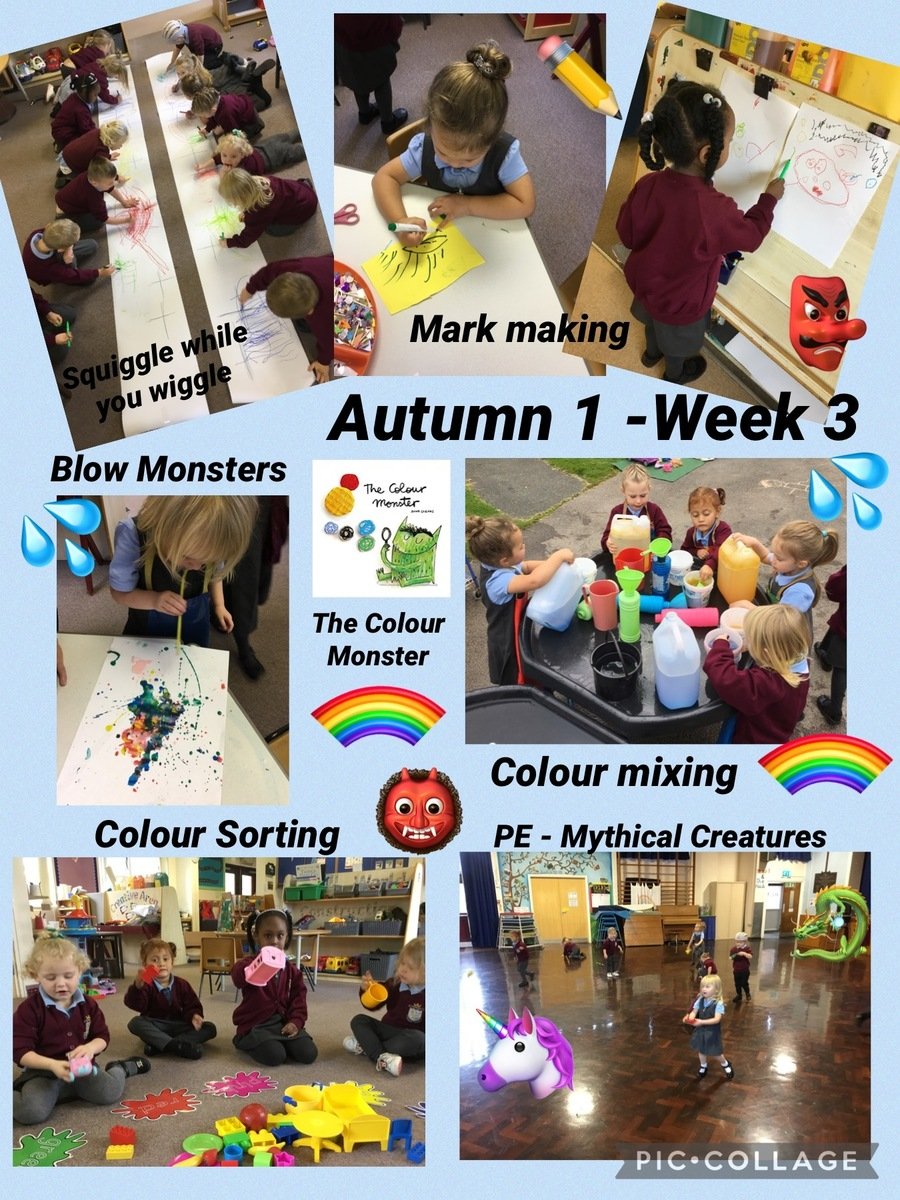 Week 2
This week we used our natural homegrown ingredients to make some apple and blackberry muffins. We measured out the ingredients, then mixed them all together. We could smell delicious smells when they were baking in the oven and they tasted delicious! We also enjoyed a game of Monkey Bingo and the children were very good at waiting for their turn and knowing who was next. We have been exploring the sounds made by musical instruments and matched the sound to the instrument. The children brought their homework in and talked to the whole class about the special items that they had brought in from home. In Forest School, we collected berries and leaves and put them between a piece of cloth, the children bashed the berries and leaves using a mallet. When the children opened the cloth they could see lots of colours that had come out of the berries and leaves. We then used the fruits in the potion area and enjoyed squishing them to make juice and pretend potions.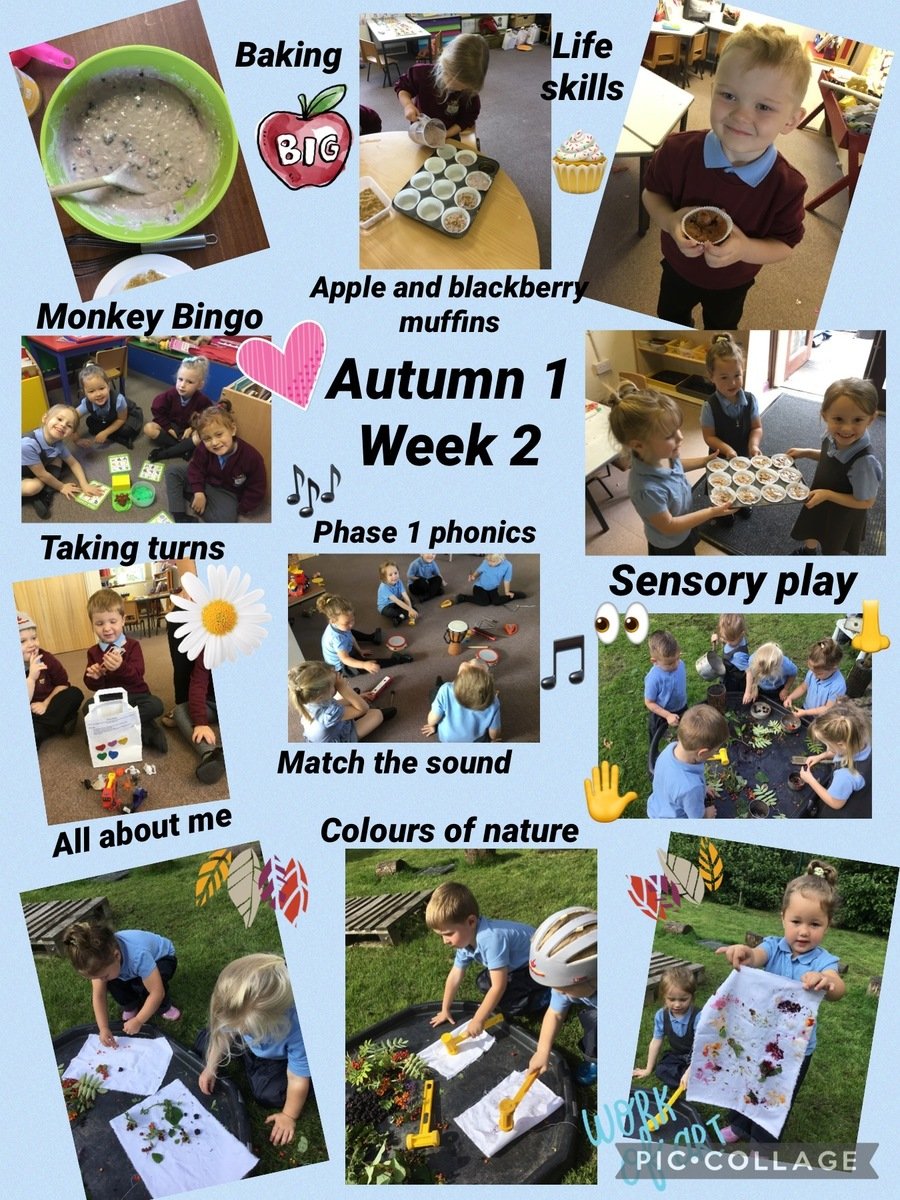 Week 1
This week we have been meeting our new friends and learning new routines. We have eaten lunch together in the main hall and had our first PE lesson. We have also been harvesting the fruit and vegetables that we grew last year. We have picked apples from the tree, blackberries from Forest School and potatoes from the vegetable garden. We are very proud of the food that we have grown.