RE at St. Stephen's
Religious Education is taught throughout the school. We focus on Christian values and use the Manchester Diocese agreed syllabus for RE and Understanding Christianity as the basis for our teaching. We celebrate a variety of religious festivals throughout the school year and enjoy strong links with St Stephen's Church and Bolton Road Methodist Church.
Through teaching religious education at St Stephen's, we provide opportunities for spiritual development. Children consider and respond to questions concerning the meaning and purpose of life. We help them to recognise the difference between right and wrong through the study of moral and ethical questions. We enhance their social development by helping them to build a sense of identity in our multicultural society. Children explore issues of religious faith and Christian values and, in so doing, they develop their knowledge and understanding of the cultural context of their own lives.
Every half term, our school looks at a different Christian Value that we try to instil in our everyday practice in teaching and during collective worship. In school, we make reference to these values and we ask that parents/guardians try to help to reinforce each value at home.
Our Christian Value this term is TRUST
Trust is the very essence of faith; trust in the God who is trustworthy.Trust is essential to human life and lies at the heart of all relationships. Trust entails vulnerability, putting yourself in others' hands. We have to trust experts - pilots, dentists, surgeons. Yet, within our society, there often seems to be mutual distrust between people and those responsible for governing them.
Converting
Our Christian Value this term is THANKFULNESS
In Ethos Group today we talked about ways to be more thankful.
Every day say three good things that happened. Jessie-Mai said, her learning, getting to see her animals and helping others. Katie said making a mini movie about her friends on the iPad, seeing her dog Lloyd and coming to Ethos Group!
Keep a gratitude journal.
Say thanks to your family.
If you feel as though you're losing your temper, remember what you're thankful for.
Thank yourself.We talked about how we could treat ourselves better sometimes...
Send three messages of gratitude each week.
Savour the good moments.
Remember that making mistakes teaches you a lesson.
Focus on others rather than worrying all the time.
Try to remember there is always someone suffering more than you are...
This half term our Christian Value is TRUST.
Here is a home-school document to give you some ideas how to discuss this at home.
Our Christian Value for Spring term 2019 is 'respect'
Respect means treating each other with politeness and courtesy. Respect has to do with recognising each other as fellow human beings with equal rights to ourselves. Respect does not mean that we always agree with the other person but that we are prepared to listen and share our views without rudeness or impatience. Respect needs to start with respect for ourselves and our own unique contribution to our homes, schools or communities.
This term we will be encouraging children to live out the Christian Value Respect in their school and home lives. Each week, we will be awarding a golden jumper to our 'Values Champion' who has been nominated for demonstrating 'respect' at St Stephen's.
Our Christian Value for Autumn term 2018 is 'friendship'
Our Christian Value for Summer term 2018 is 'Courage'
For Christians 'having courage' or 'strength to carry on' is linked to faith in God's promises - promises of God's presence, protection and power. Famously Joshua, when taking over from Moses in the Old Testament, hears God say:
'Be strong and courageous. Do not be terrified; do not be discouraged, for the Lord your God will be with you wherever you go' Joshua 1:9.
Courage is needed in many situations, but in particular children might relate to:
Courage to own up when you are in the wrong
Courage to say 'no' when everyone else is pressing you to do something you do not want to do
Courage to stick at a task even when it is taking time and is beginning to become difficult
Courage to be first to volunteer or stand up and be counted
Courage to admit you don't know or understand something
Courage to stand by your beliefs despite being in a minority
Courage to take part in something, to give it a go, although you are fearful and unsure of yourself
Children at St Stephen's will be exploring courage through collective worship and RE lessons throughout the term.
Celebrating Easter at St Stephen's
At the end of the Easter term Year 5 led our KS2 Easter Service at St Stephen's Church. Thank you to all the families and friends of our children who attended the service.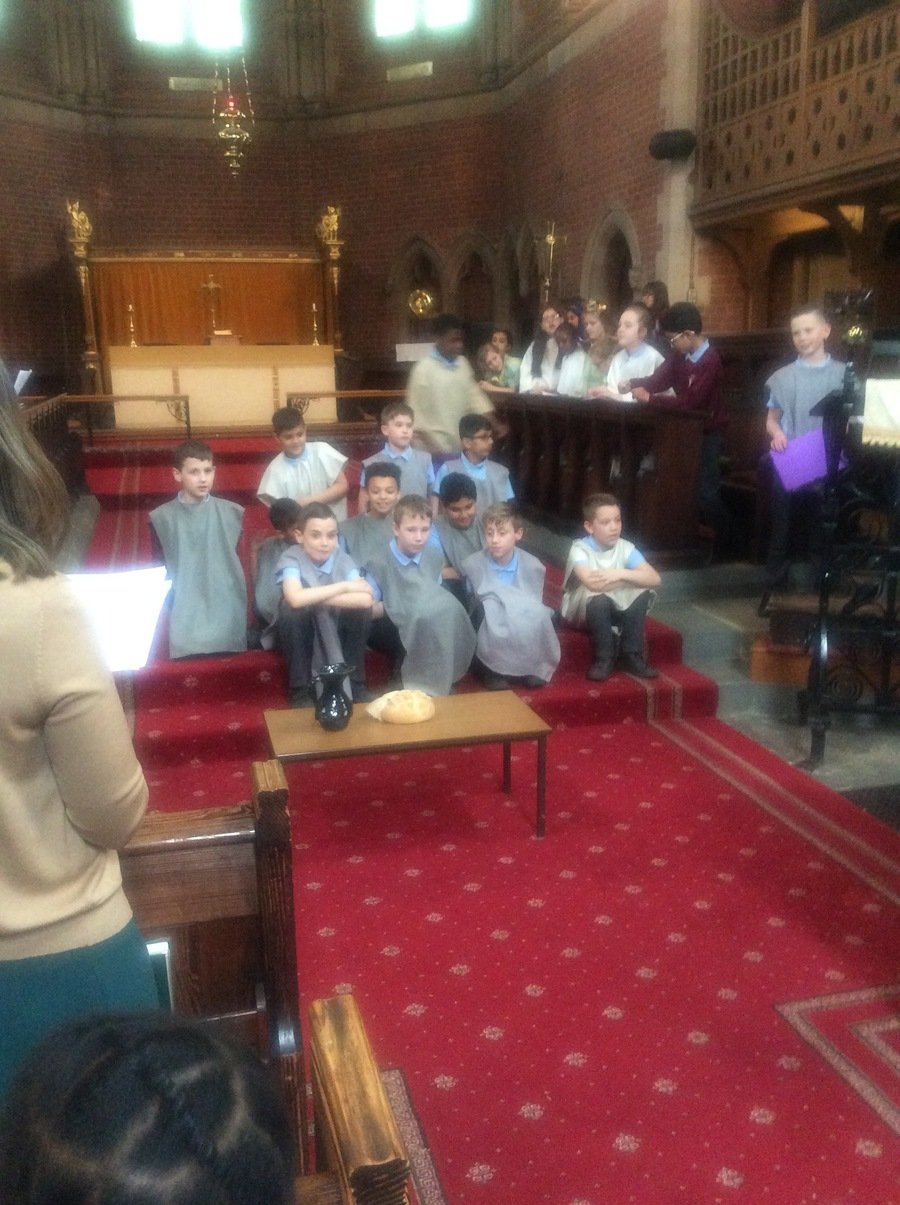 Our Christian Value for Spring term 2018 is 'Peace'
Peace has a range of meanings, from silence to the ending of a war.
Peace is something most people long for - an end to hatred, hurting and even harmful noise.
But why is peace so hard to find? Are we frightened of silence? Are we incapable of living peacefully with each other, especially with those who are different from us?
Finding and making peace is hard work and once it is found, it needs to be guarded very carefully.
Children are introduced to the idea of peace when:
they experience true silence
they make up with friends after a row
they see people working together and burying their differences
they hear about war and peace in their history lessons or on TV
they hear about wars still going on today
Children at St Stephen's will be exploring peace through collective worship and RE lessons throughout the term.
We have been enjoying singing 'Peace like a River' in collective worship this week.
Our Christian Value for Autumn term 2017 is 'Service'.
The parable of the Good Samaritan shows we should serve those in need, whoever they are. Such service is not offered to gain advantage for ourselves. 'Going the extra mile' involves sacrifice, putting ourselves out for someone else's benefit.
Demonstrating Service
In Year 5 the children have enjoyed taking part in an art project called 'Art to Heart' with Miss Long from Elton High School. We plan to produce artwork for the prayer area in the hall. Children have been chosen to attend Burrswood Care Home in Bury where they have taken part in art classes with some of the elderly residents.