Class teacher -

Miss Dunbar

Class teacher

-

Mrs Fairclough
supported by - Mrs Keegan, Miss Hather, Mr Newmarch, Mrs Riley, Mrs Panas & Mrs Bostock
.
Tuesday 18th July,
When I grow up I want to be..
We are all very excited and very ready for our transition in to Year 1. This week we have been thinking even further ahead. Have a look at what we'd like to be when we're older..

Come and have breakfast with us!
Wednesday 19th July
The Early Years Team would like to invite you for breakfast! The end of the school year is nearly here. Let's celebrate all of our achievements together over croissants and 'bucks fizz'. We will be opening the doors for breakfast at 8.30am, we hope you can join us!
The Reception Team x
Art Week
Friday 14th July
This week was Art Week. We have had a very busy week! We looked at some of Howard Hodgkin's work inside and recreated some pieces. We looked at different prints and experimented. We mixed colours and used different tools to make marks. We also looked at Andy Goldsworthy's work outside with Mrs Rowlands and used the Ipads to capture our art.
Making the most of the sunshine!
What a gorgeous, sunny afternoon we have had! We wanted to go to the beach, so we made our own. We walked on the sand, splashed in the 'sea' and even cooled off with ice-lollies.
Congratulations to the happy couple!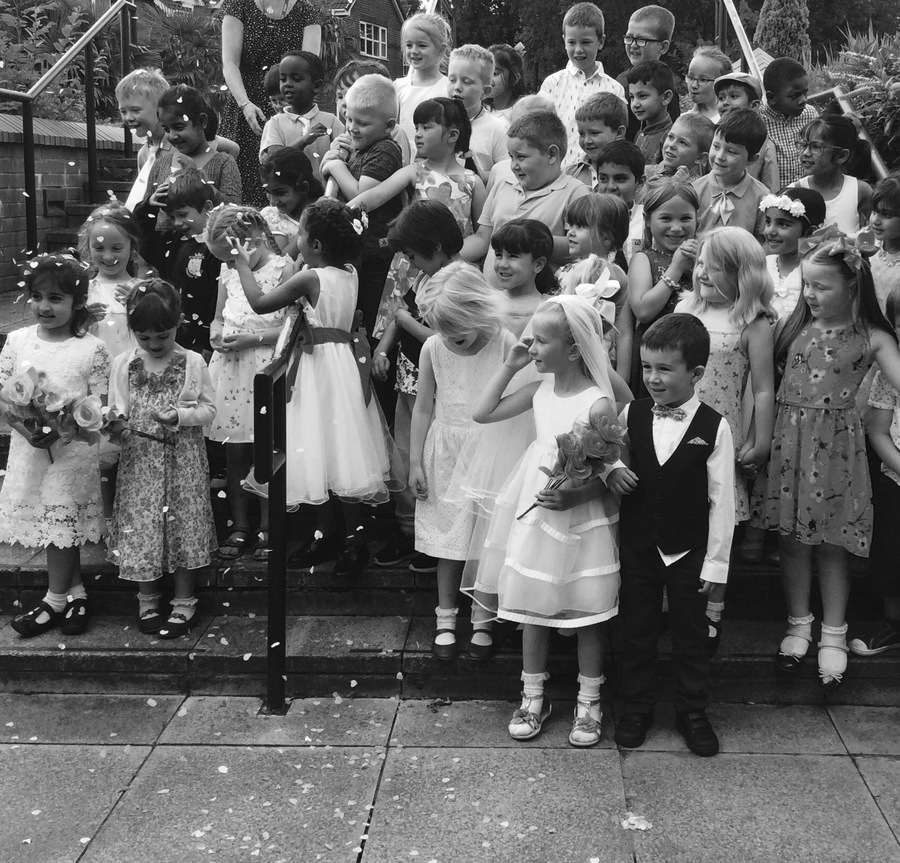 13/07/17
Yesterday we were very lucky. We had the opportunity to have our very own Reception Wedding at Bolton Road Methodist Church. We had a lovely service held by Kathy and learnt a little more about Christian weddings. When we returned back to school we held a wedding reception which consisted of lots of yummy food and dancing. We had a fantastic afternoon and would like to thank Kathy and our teachers, especially Mrs Gunn for organising our afternoon, we are very grateful.
Our bride was very kind and let her friends try on her veil..
Take a look at some of our lovely wedding guests, how smart do they look?
Pirate Day
Friday 7th July, 2017
Today was Pirate Day! We had a pirate filled day. We had lots of new pirate things to play with, pirate counting, pirate sports, a pirate picnic, we made telescopes and made pirate boats for snack! We really got in to role.
Red Class pirates ARGHHHH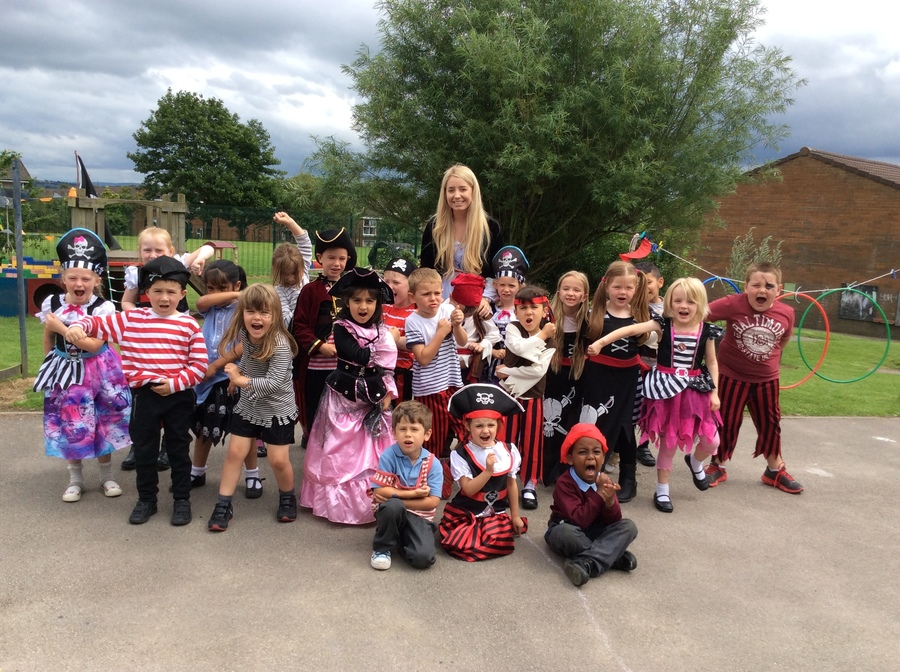 Blue Class pirates ARGHHHH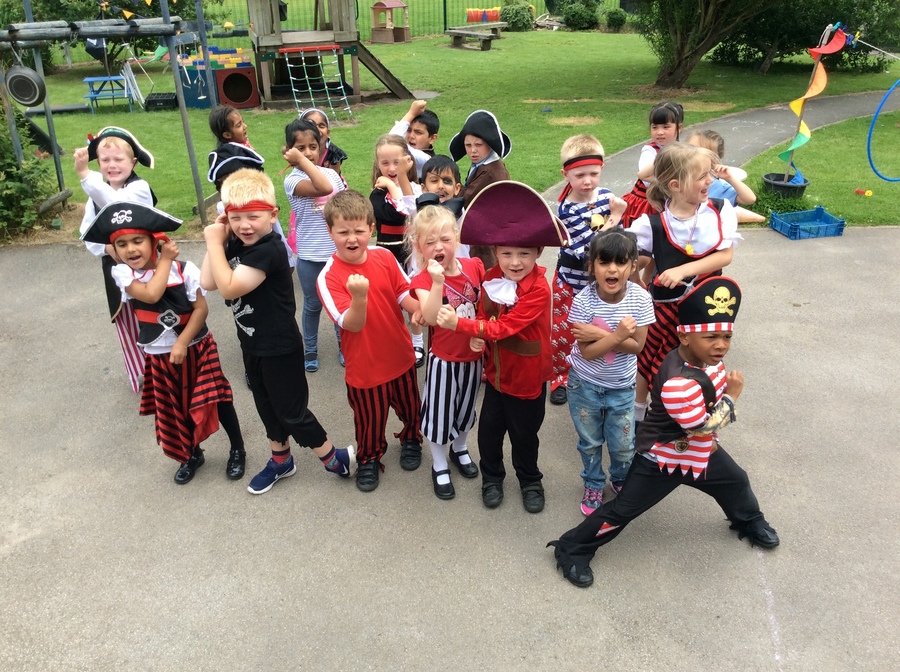 Pirate Sports
We were very upset that we couldn't go ahead with our Sports Day due to weather conditions. However, Mrs Smith set up a pirate obstacle for us to complete when the field wasn't quite so wet. We had great fun!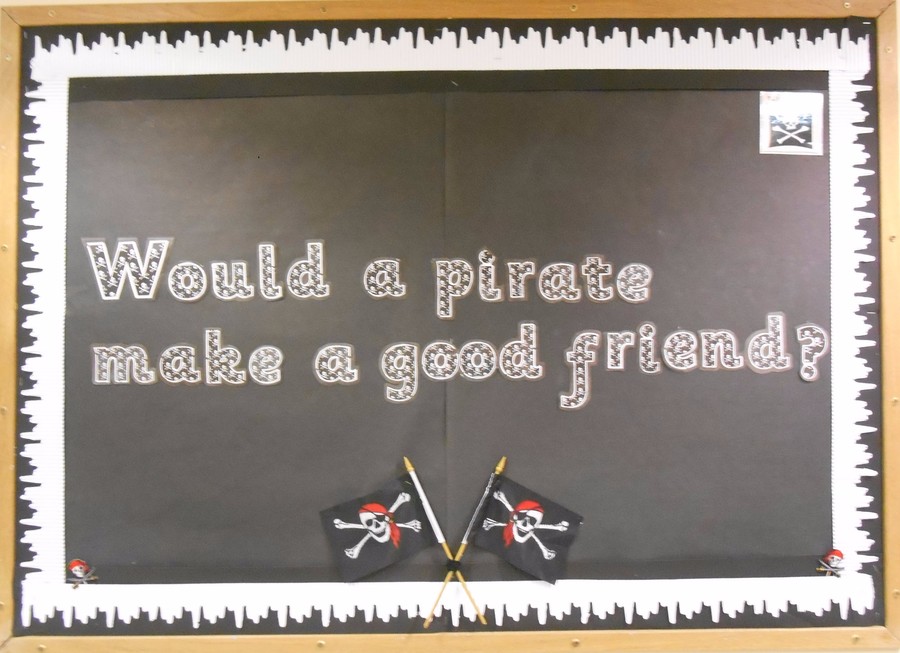 The Naughty Bus
Our book this week was about a very naughty bus. This bus didn't stop for passengers, drove through beans and had to be rescued from a pond!
We had great fun with our 'Bus-Bots' and driving our buses in beans.
Monday 22nd May
Our golden jumper winners this week..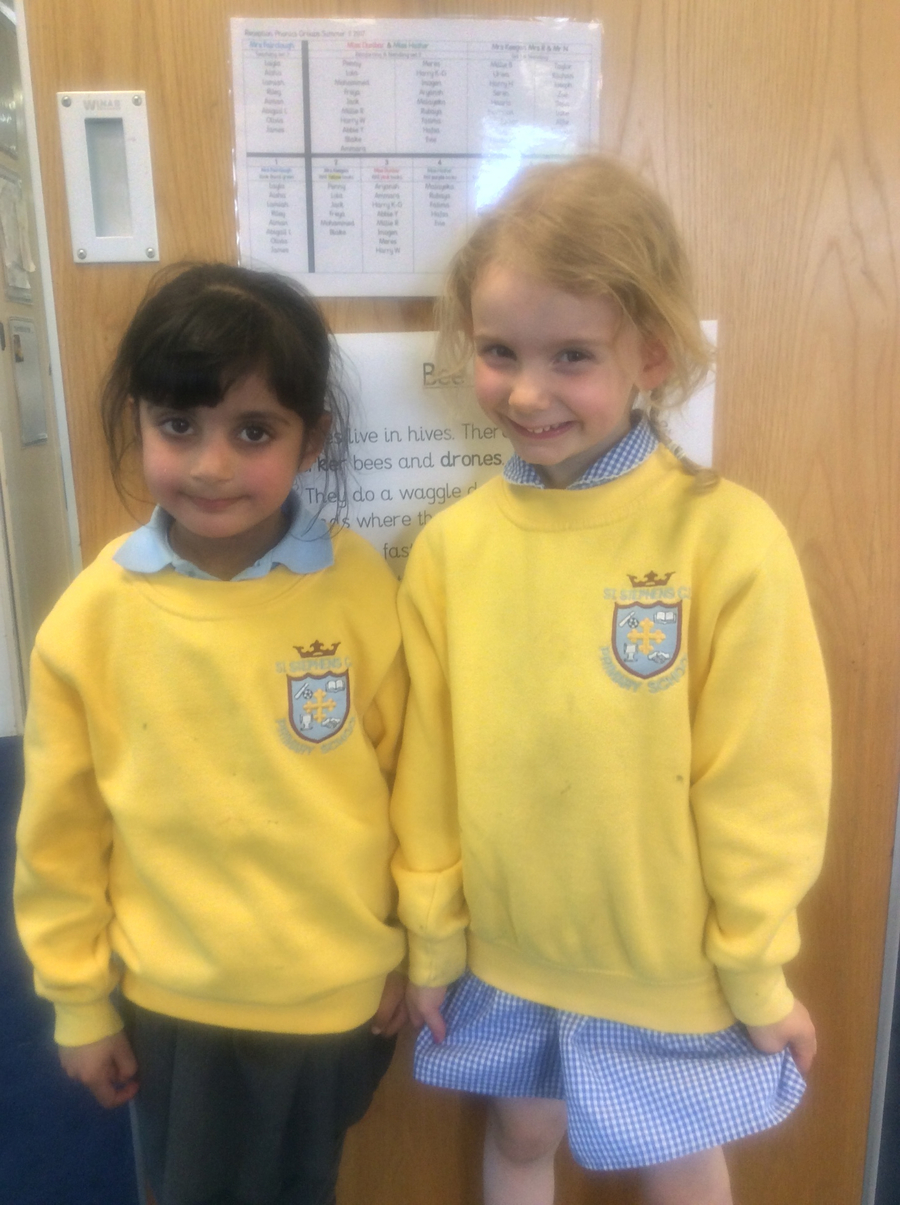 Next week is Science week.
Here is a clue to what we will be learning about in science week...
Friday 5th May
Today we have been making the most of the lovely weather and our amazing school fields.
We had our snack there, we did maths there, we chased Miss Dunbar there AND we found some huge logs and carried them back to class to decorate.
Friday 28th April
What a FANSASTIC week for attendance!
Blue class 98.25% and Red class 99.09%
This week we have been doing lots of counting in 10s and 5s as well as dancing.
This is our favourite counting dance - have a go and join the fun!
Friday 21st April
This week we have met the Brilliant Beast.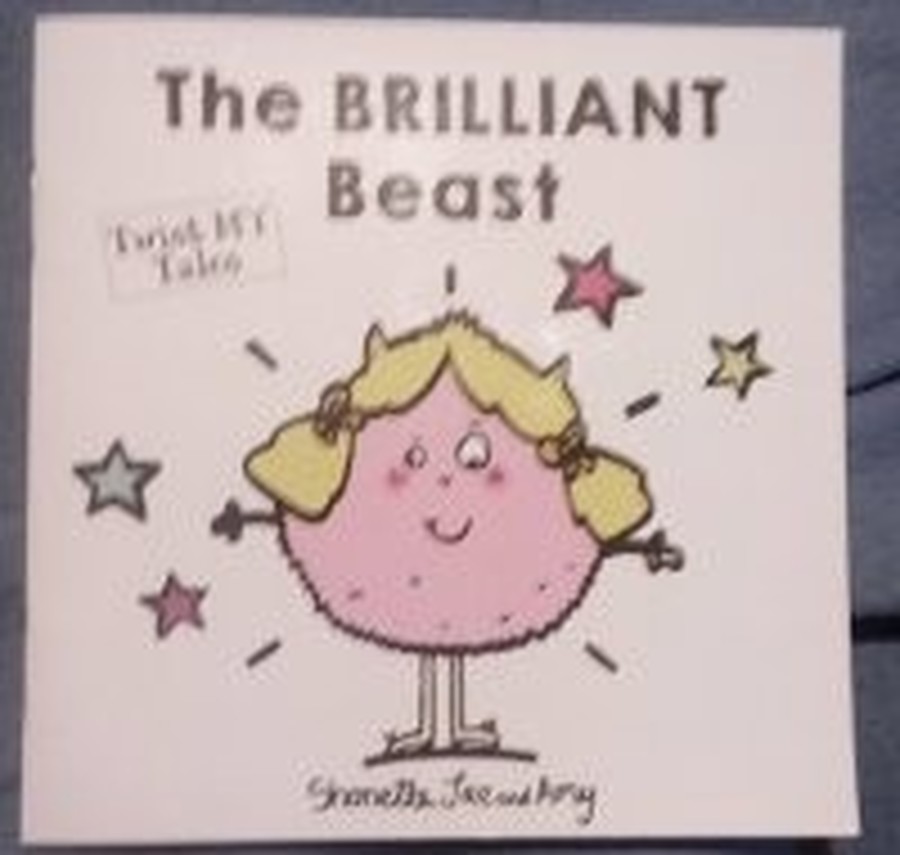 Sing along with us.....
(and see if you can spot Miss Dunbar & Mrs Fairclough in the video)
Monday 27th March
Making the most of the glorious spring sunshine today!
Monday 27th March
Our golden jumper winners this week..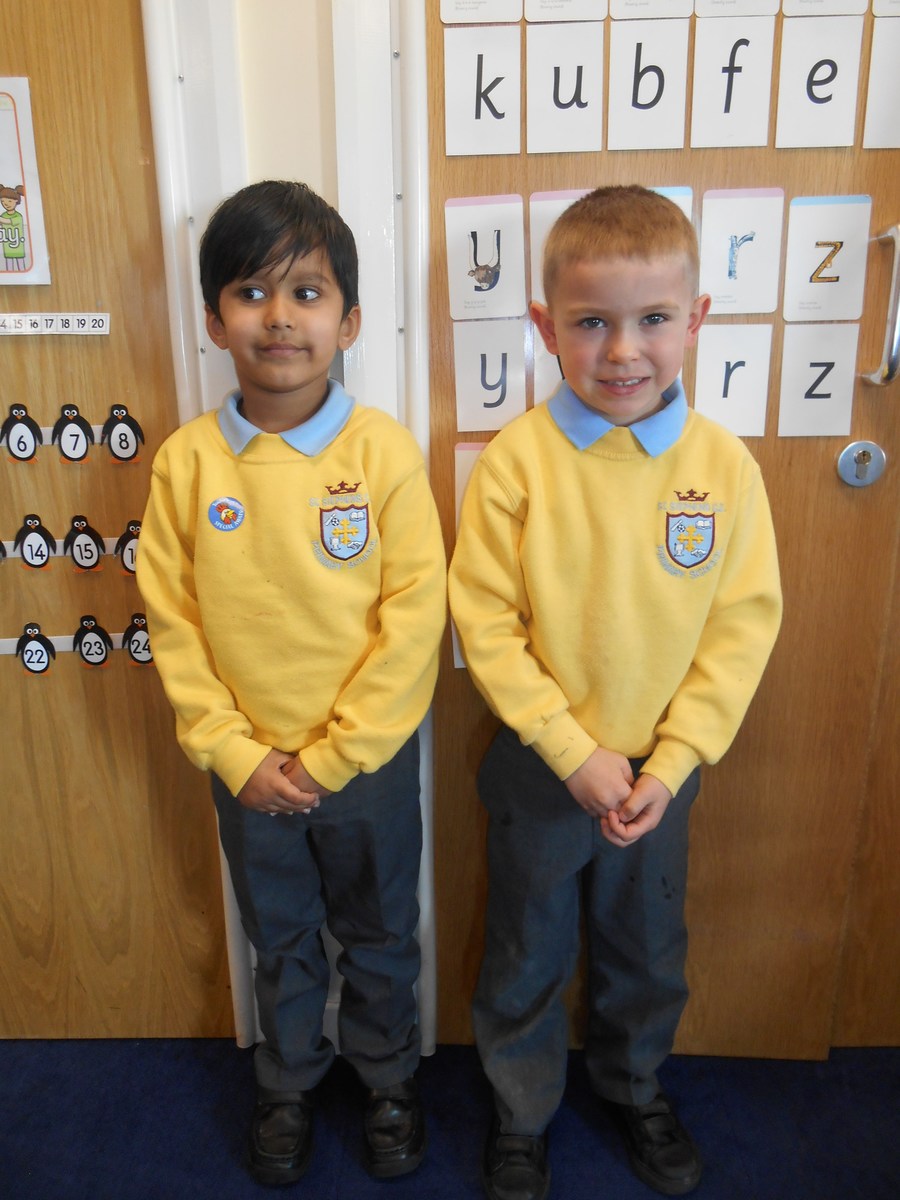 Friday 24th March
Red Nose Day
We all wore red and donated £1 to people who are less fortunate than us. The children hoped it would help to buy 'clothes', 'food and 'teachers'. We have some very thoughtful children in reception.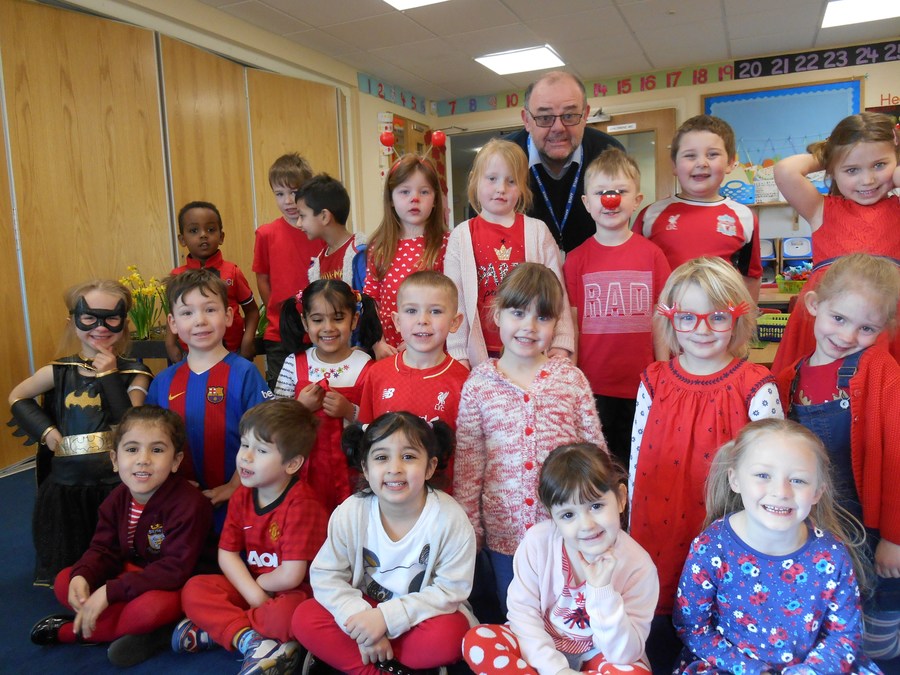 Friday 24th March
We enjoyed baking sweet treats for our families in time for Mothering Sunday. We used lots of our skills while baking, we used our fine and gross motor skills when adding ingredients and mixing them all together, we also used our maths skills to compare weights and count out ingredients.
Thank you to all the parents who took part in our 'rock return'. It is so nice to know we share so many values.
The reception team x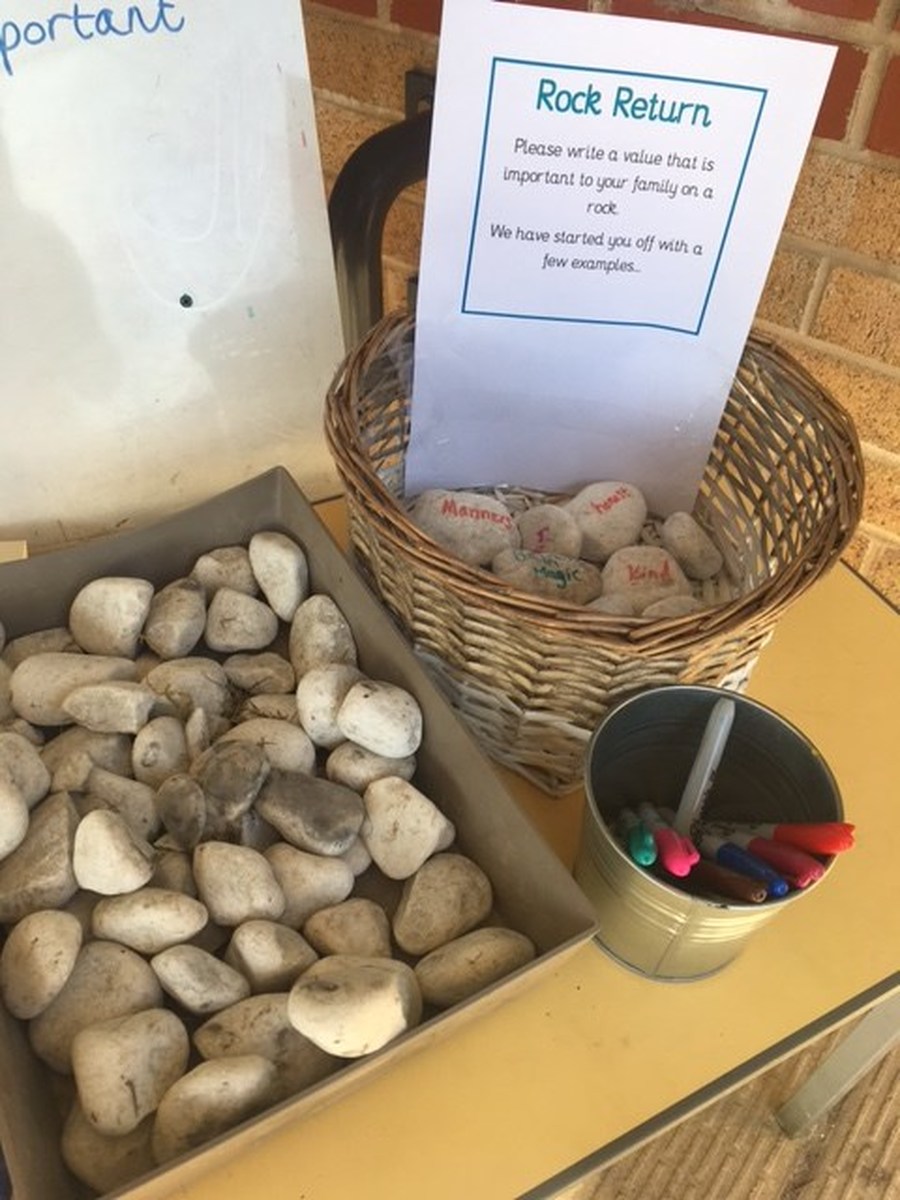 Tuesday 21st March
Last week when we were taking a stroll up the field we came across a rather peculiar looking egg! Soon followed by a letter asking us to look after the egg, all the way from 'Dragon Land'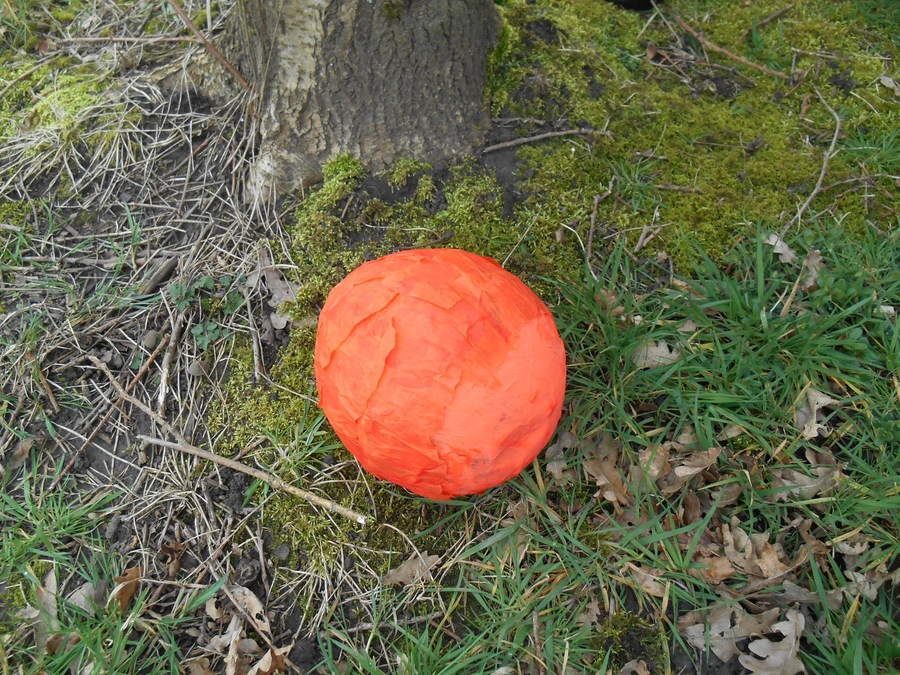 The egg began to hatch, and you guessed it.. inside was a baby dragon. We called him 'Crumpet'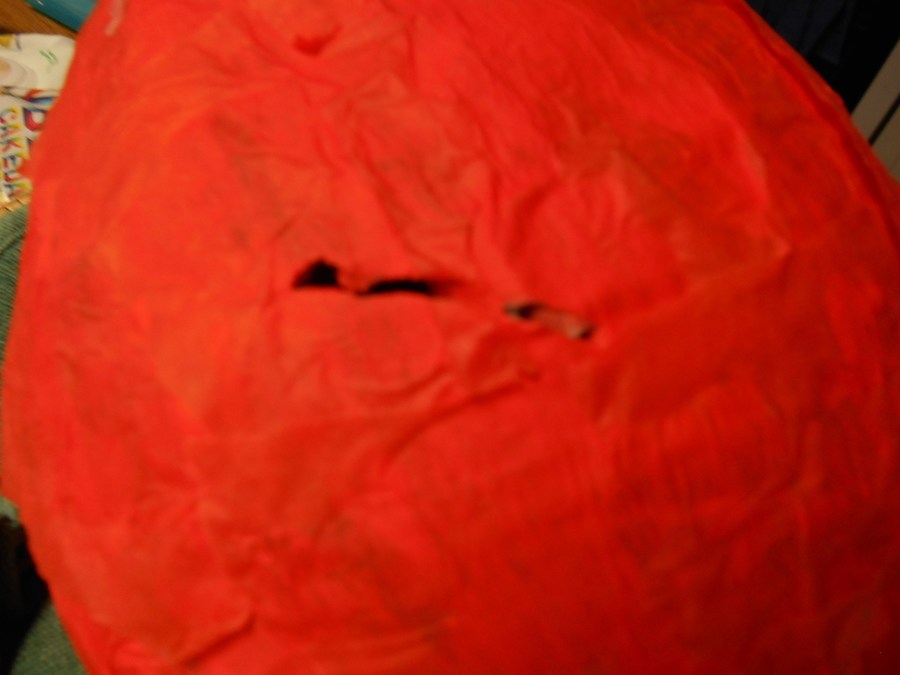 We've had lots of discussions about how to look after Crumpet the friendly dragon, we've thought about what he might like to eat and where he might live. We used our construction resources to build him a house.
Monday 20th March
Our golden jumper winners this week..
Thank you to all the families that came to speak us last night. We really enjoyed discussing our wonderful children. Thank you for all your continued hard work and support at home too, it really does make a difference!
Miss Dunbar & Mrs Fairclough x
Monday 13th March
Our Golden Jumper winners this week..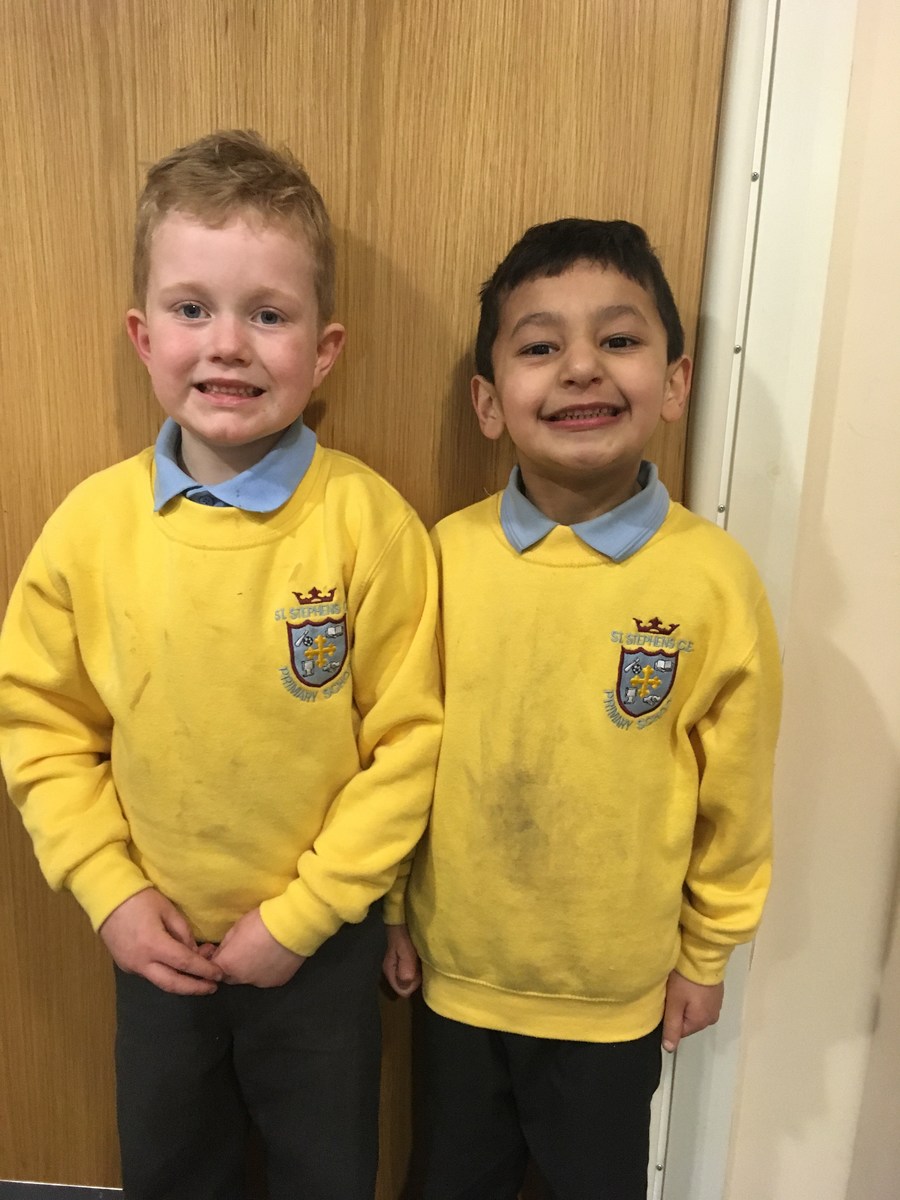 We have had a brilliant Book Day
- don't we all look fabulous?
Thank you to all the children (and adults) that completed their half term challenge! Me and Mrs Fairclough have enjoyed reading through your emails and looking at your photographs!
Our Golden Jumper winners this week..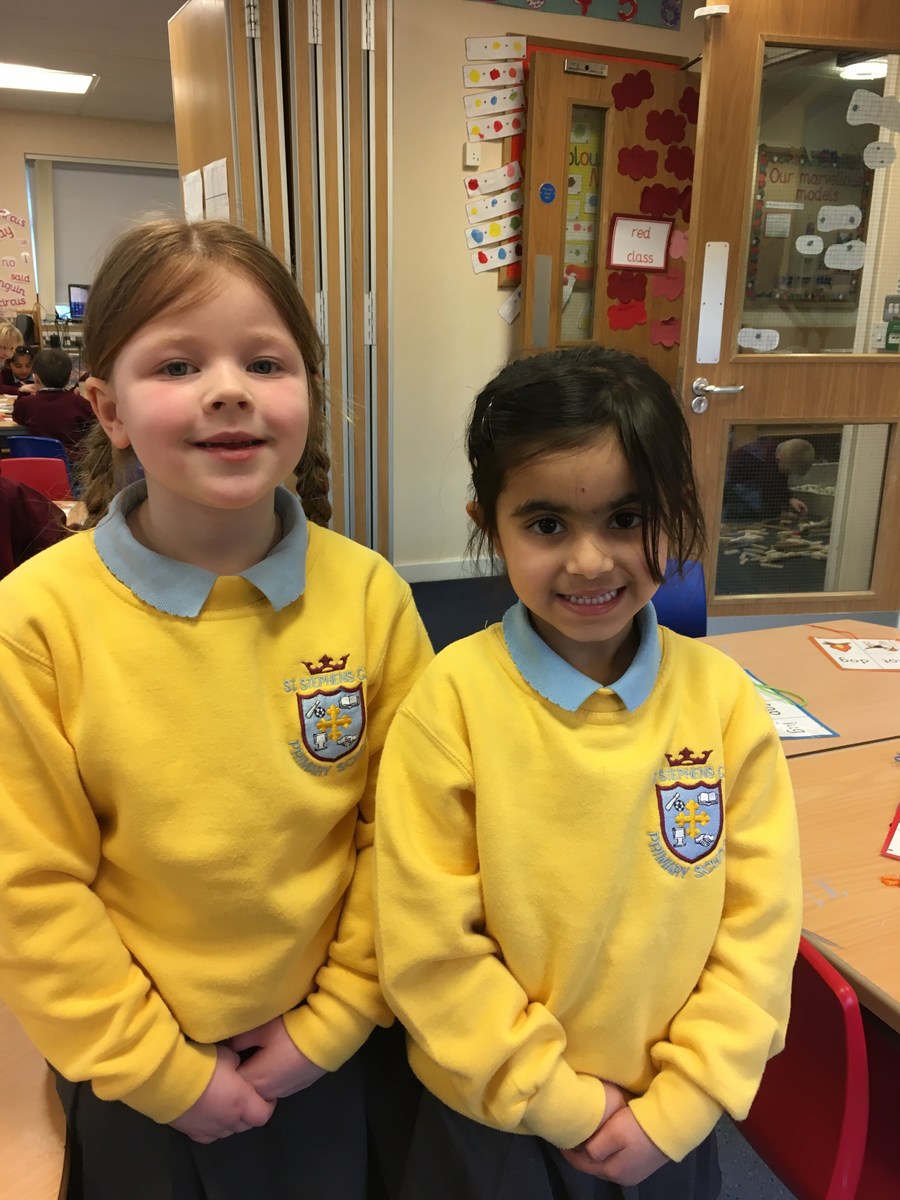 Monday 27th February
Healthy Living Week!
This week we will be exploring 'Healthy Living'. Today we have been having a think about all the different things we can do/eat/drink to keep us healthy.
This afternoon we tried some new fruits. We used our senses to explore them (what do they look, feel, smell and taste like?) We made lots of funny faces- so did Miss Dunbar and Mrs Keegan!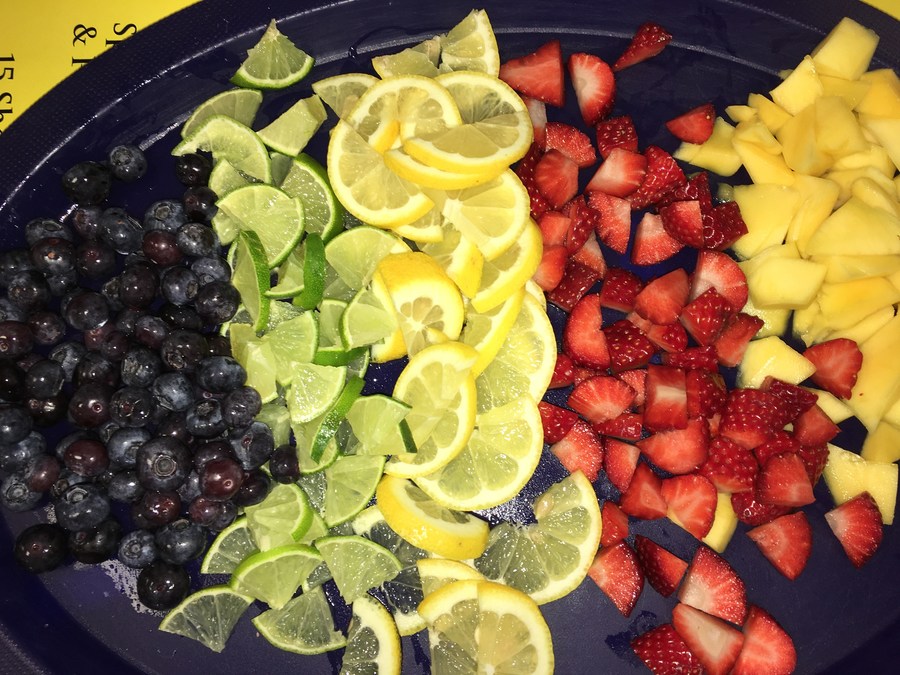 Thank you parents for sharing your proud moments! I can assure you that we are just as proud. Enjoy your half term and we will see you very soon.
lots of love,
The reception team x
Our Golden Jumper winners this week...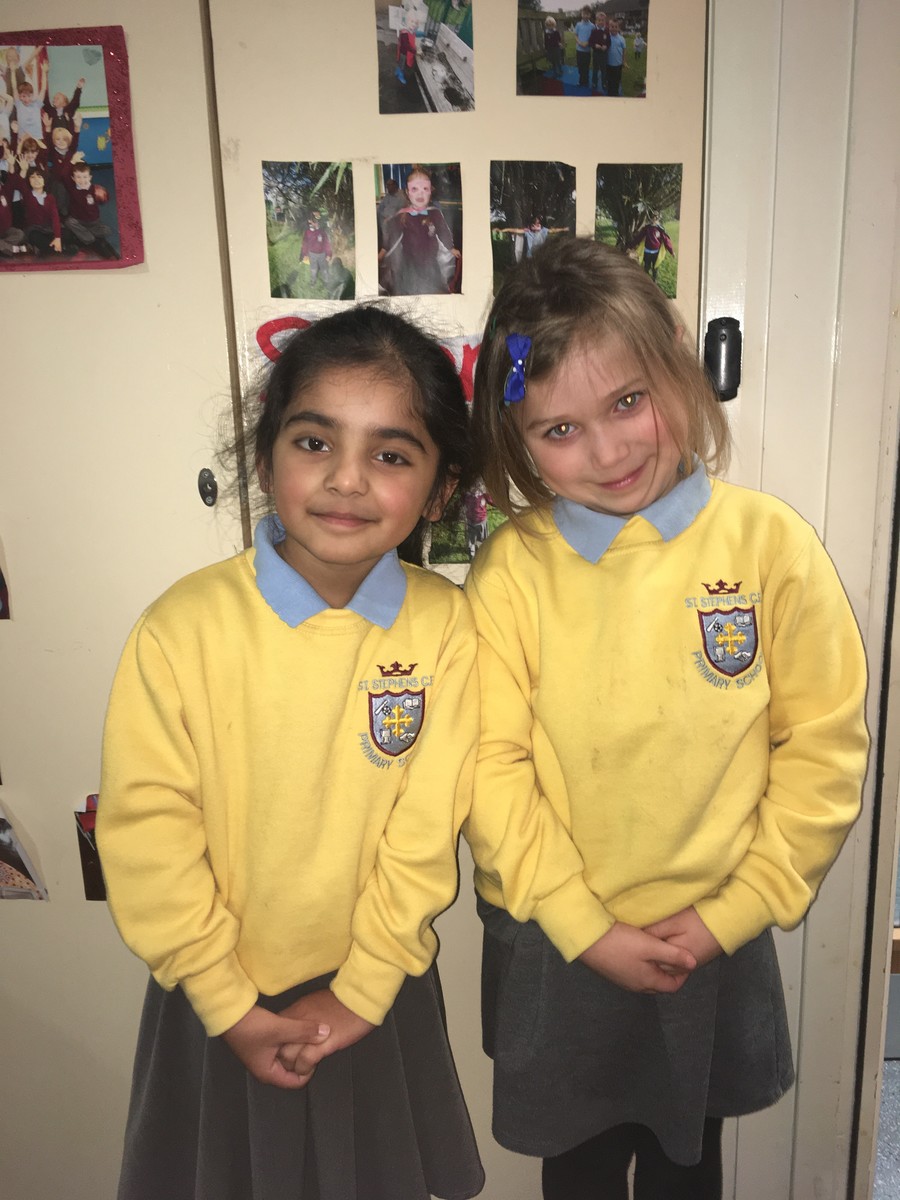 Circus School photographs are now in the galleries.
CLICK HERE to see just what we got up to ....
Wednesday 15th February
Today was Hippo Day!
We made the most delicious hippo biscuits with Miss Dunbar and Harold the Hippo this morning. In the afternoon we went on a mud slide! (hippos love mud) it was very muddy and VERY slippy! Mrs Fairclough had to hose us down!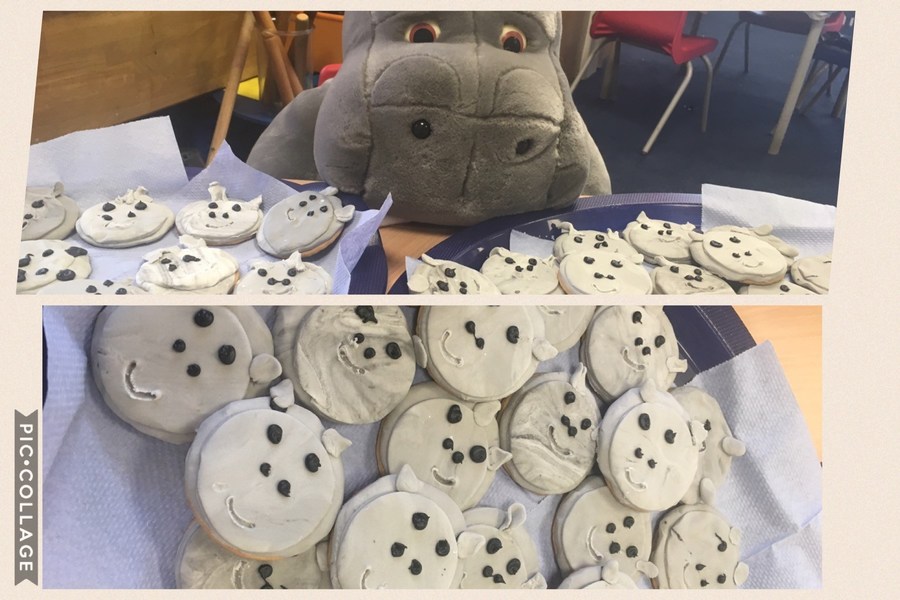 Thank you for the messages at the end of the school day! The Reception Team are feeling the love! Parent Partnership love!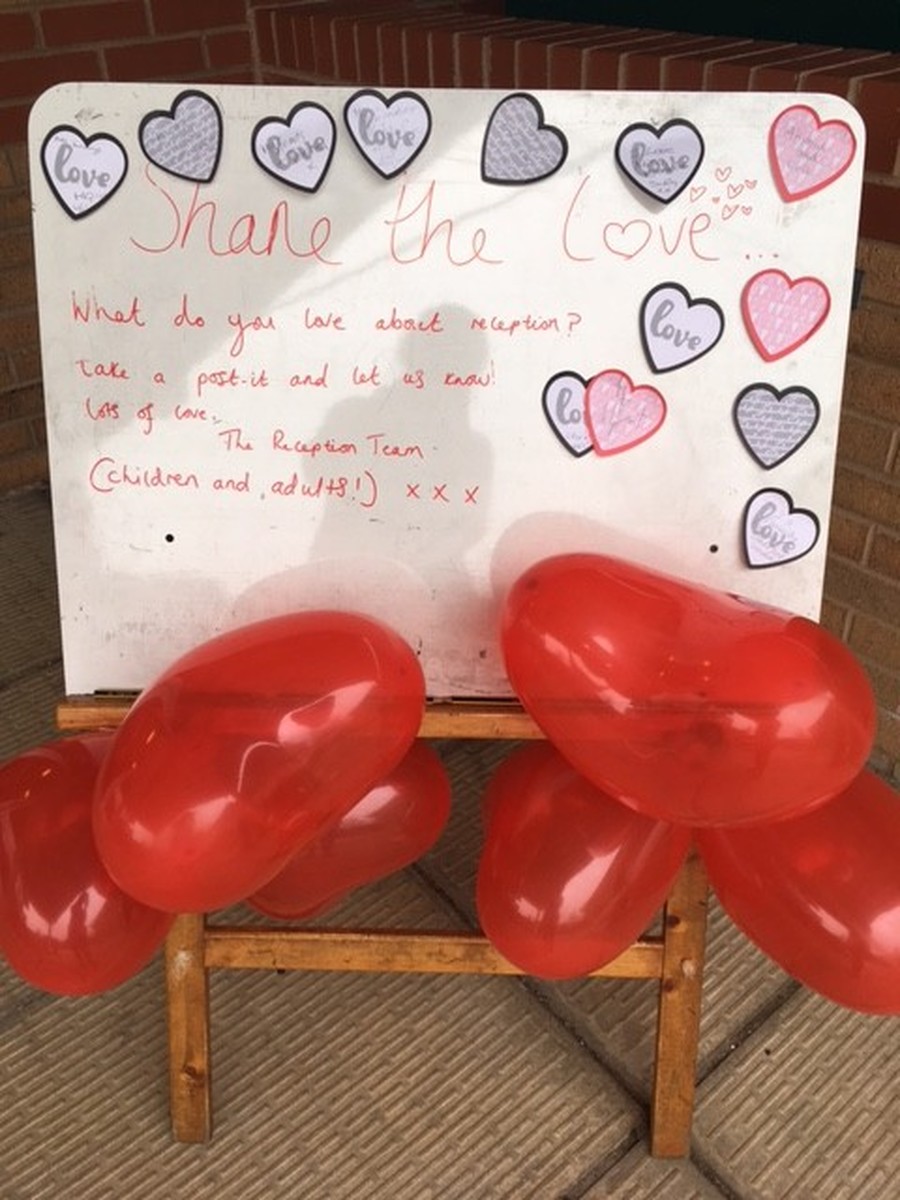 Happy Valentines Day!
Today we have been spreading the love! we made amazing love heart decorations in the writing area, we collaged love hearts in the crafty area, we did some valentines dancing and had a valentines photo-booth!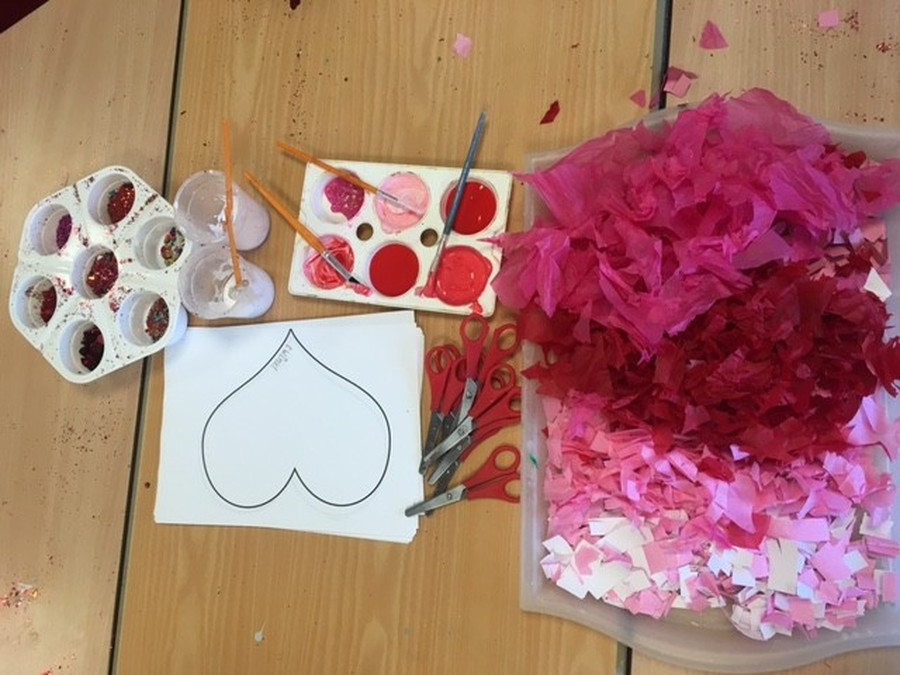 WE LOVE OUR FRIENDS!
We each chose a friend we love and told them why we loved them-it made our friends very happy, lots of smiles today! (more photographs to be added tomorrow..)
I'm sure you have all heard about our VERY exciting trip to Circus School. Miss Dunbar and Mrs Fairclough are sorting through the HUNDREDS of photographs and putting together a gallery.
to be continued...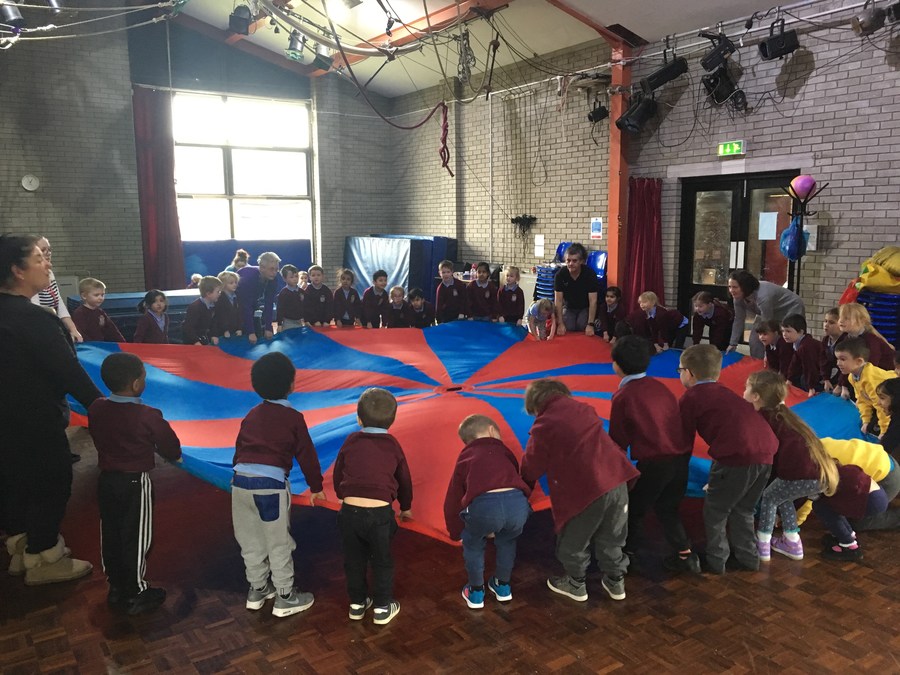 Look at our golden jumper winners this week- beaming with pride!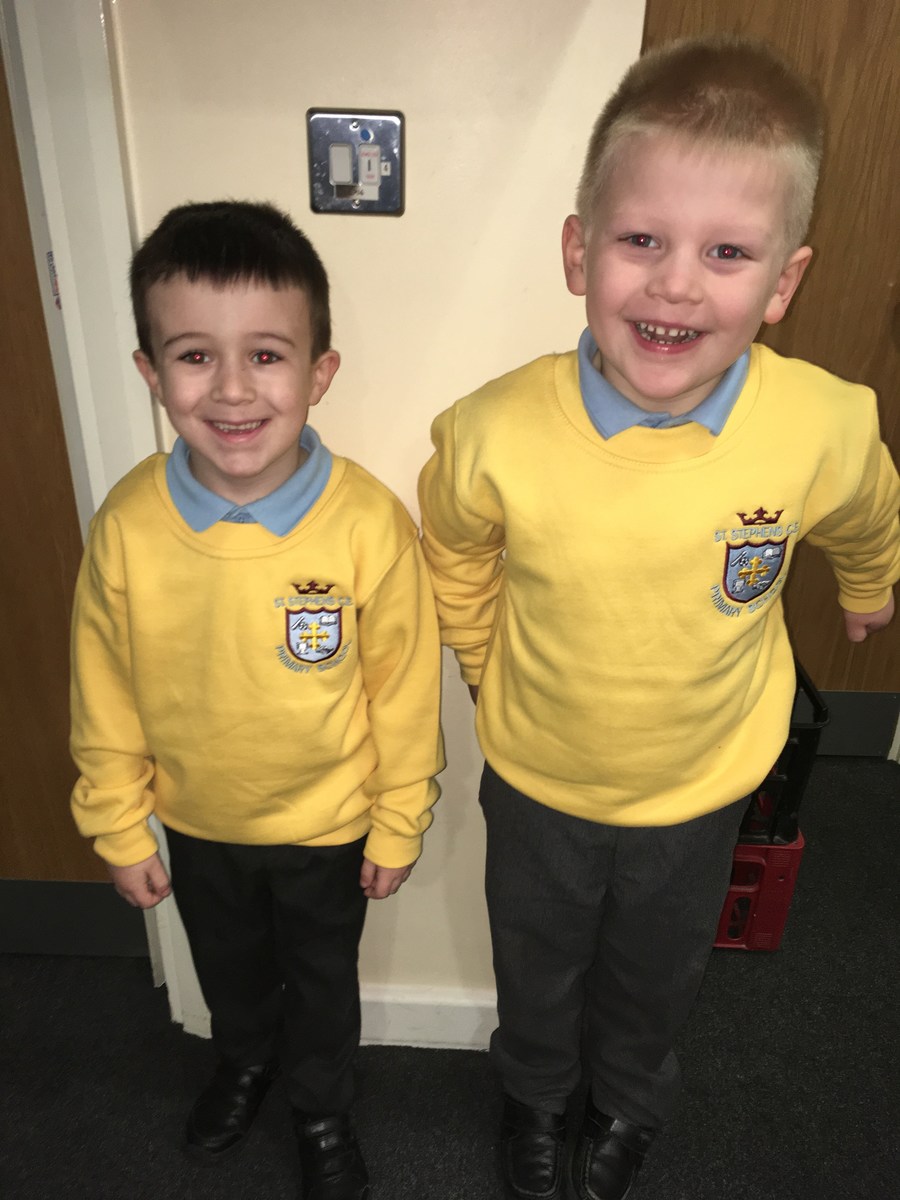 Wednesday 7th February 2017
Who's excited for circus school? WE ARE!
Tomorrow is the big day we are all VERY eager for! we're going on our school trip!
This week we have been practising our juggling and balancing skills in preparation. I hope circus school are ready for how amazing we are! 1 more sleep!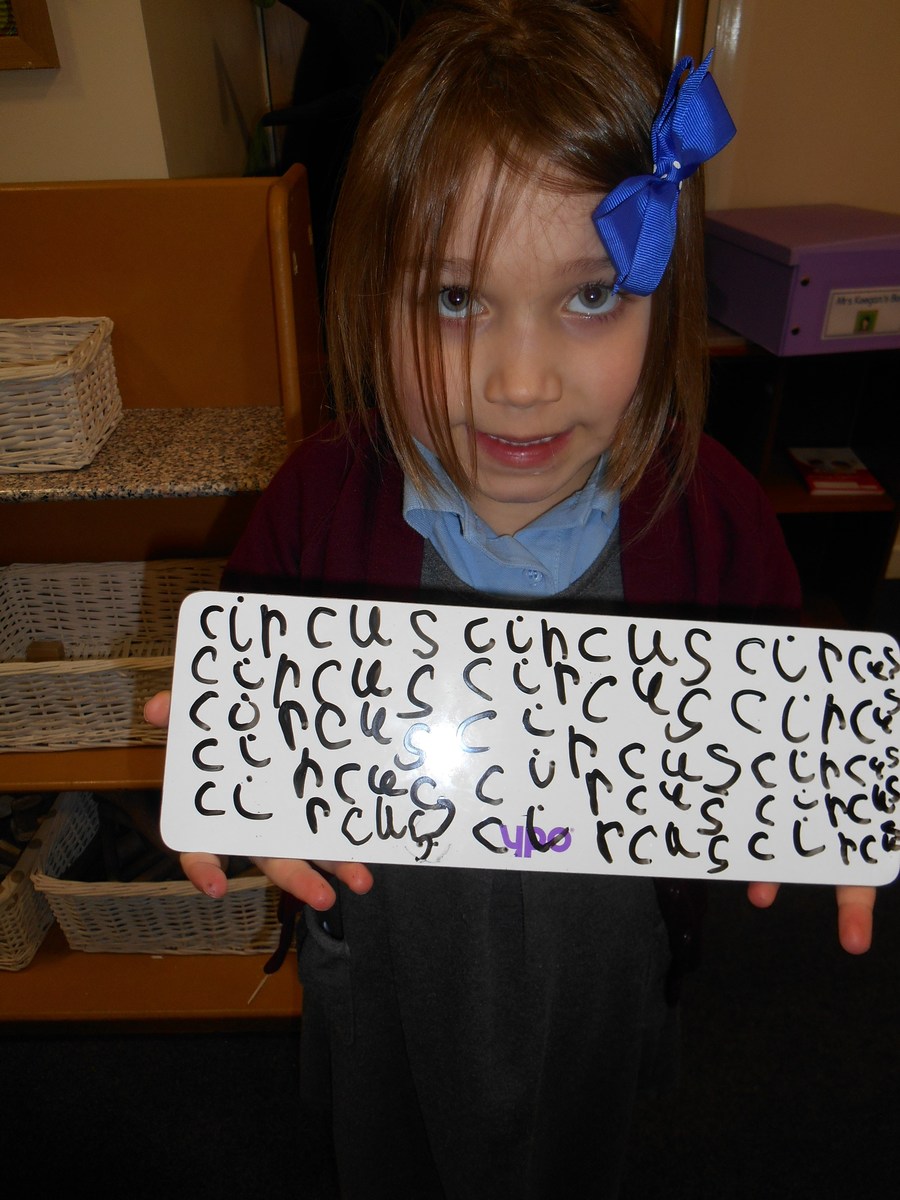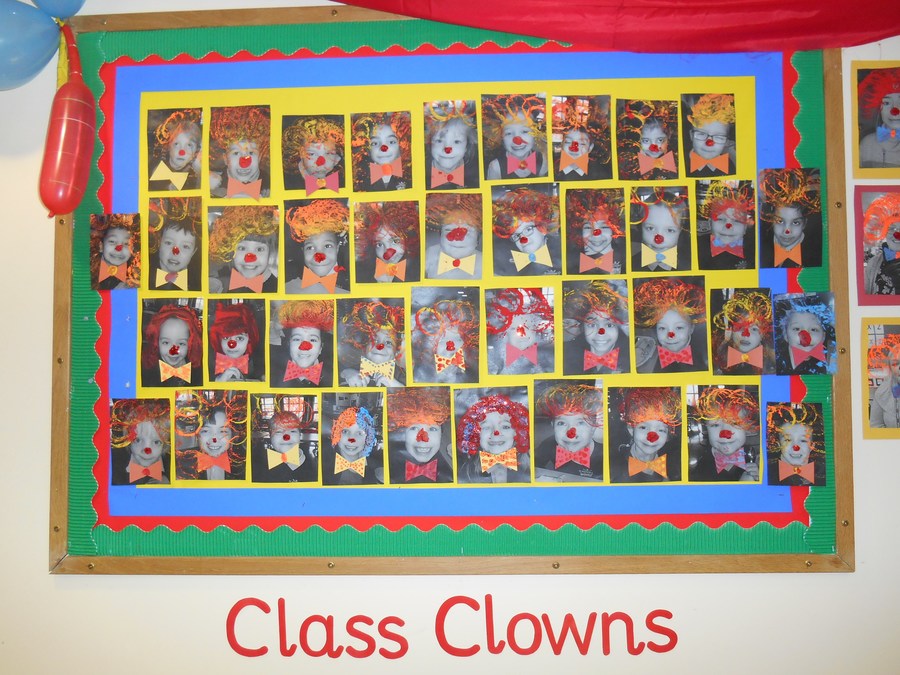 This afternoon we have been practising clown makeup.
What do you think?

Our next topic is The Circus.
How do you join a circus? Let's find out .....
CLICK HERE to download a copy of the letter about Reception's trip.
Sounds
How many do you know?
Friday 20th January
This week we have been busy making games. We made rules and then took turns playing with our friends.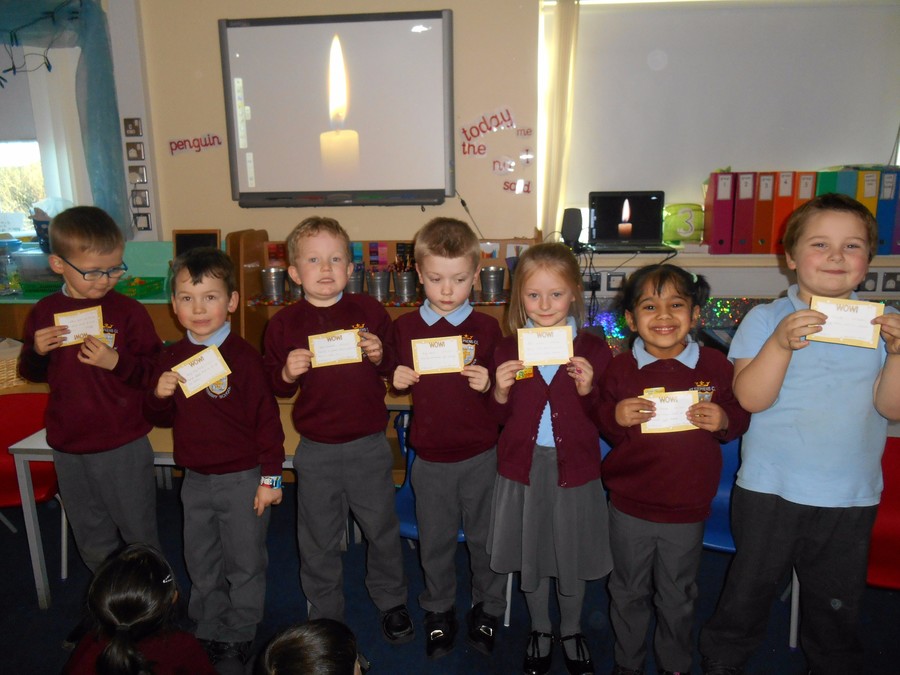 Winter has arrived and this week we have been thinking about snow flakes and penguins. We have been watching ice melt and next week are going to be thinking about how to make it melt faster and slower.
We were very excited by our little fall of snow on Friday but are hoping for more - we want to build a giant snowman.
When it snows we would be grateful if children could bring spare socks, tights etc so we can change and keep warm. We have some spare socks but they are dwindling. We would be very grateful for any donations of socks for our box, and please return any spare clothes your child may come home in.

Christmas has arrived in Reception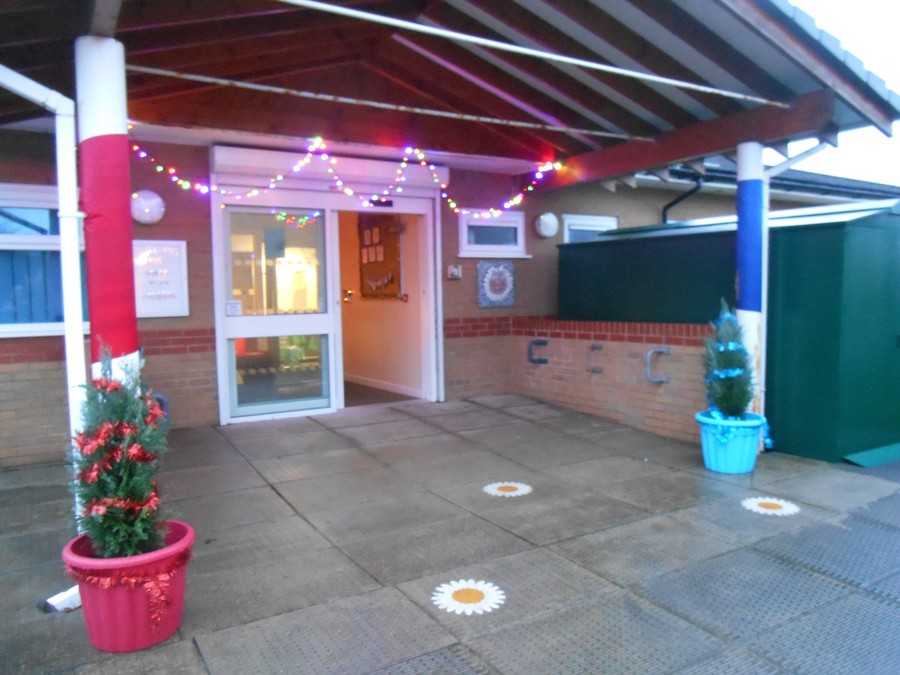 In our stories this week we have had a mischievous reindeer and a very mischievous gnome!
Can you learn the Mischievous Gnome story?
Can you write the word mischievous?
Today we Tinsel Bombed our garden - it was lots of fun and now the garden looks awesome! CLICK HERE to see our Tinsel Gallery.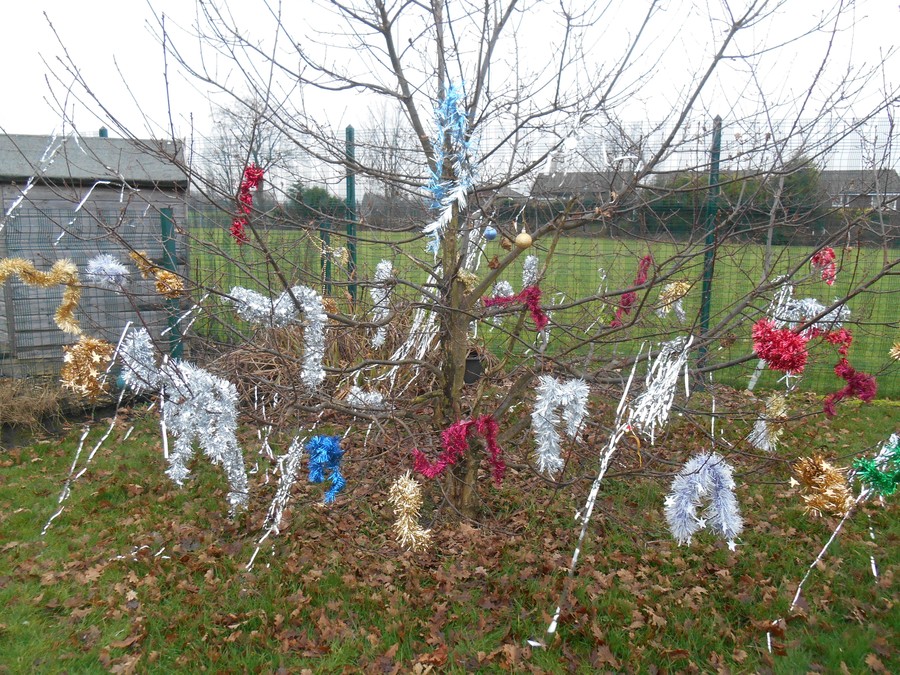 Christmas dinner was scrumptious!
Christmas is a busy, busy time.
How much fun are we going to have in our new classroom?